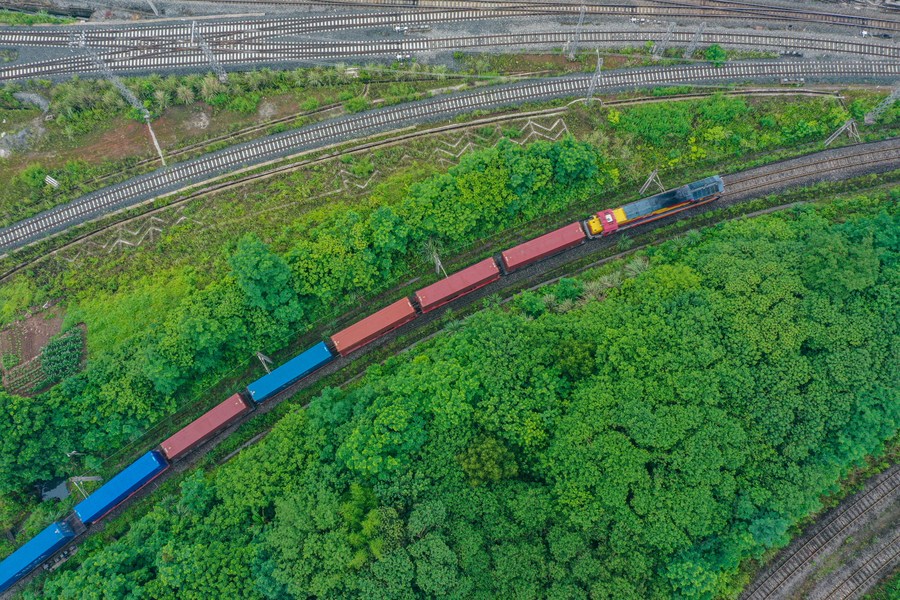 Aerial photo taken on May 21, 2022 shows a China-Laos cargo train departing from a station in southwest China's Chongqing Municipality. (Xinhua/Tang Yi)
BEIJING, March 27 (Xinhua) -- SINO-AGRI Potash Co., Ltd., a subsidiary of leading Chinese potash fertilizer supplier Asia-Potash International Investment (Guangzhou) Co., Ltd. (000893.SZ), and the government of Laos on March 24 signed a cooperation memorandum on building an intelligent potash fertilizer industrial park in Lao capital Vientiane.
The industrial park, with a total investment of about 4.31 billion U.S. dollars, will be separated into a potash fertilizer zone, a non-potash zone and an Asia-Potash town. The potash fertilizer zone will focus on boosting development of potash fertilizer industry based on local resources. The non-potash zone will be used to improve resource utility by availing of coal, bauxite ore and other associated resources of potassium ore mines of Laos, and the Asia-Potash town is set to attract investors and talents to accelerate urbanization of Laos.
Upon operation, the industrial park is expected to generate 320 million U.S. dollars of annual fiscal revenue for Laos and create 30,000 to 50,000 jobs for local people, according to Tong Yongheng, executive director and general manager of SINO-AGRI Potash Co., Ltd. (Edited by Su Dan with Xinhua Silk Road, sudan@xinhua.org)