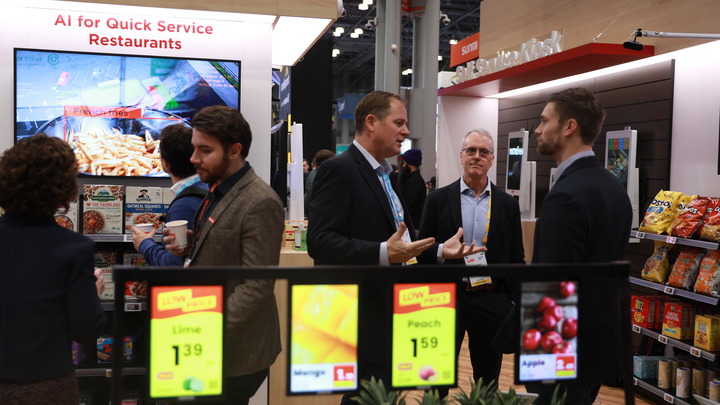 Customers visit the booth of Lenovo at the Retail's Big Show 2023, an annual expo held by the U.S. National Retail Federation in New York, the United States, Jan. 17, 2023. (Xinhua/Zhang Mocheng)
BEIJING, March 24 (Xinhua) -- Chinese computer giant Lenovo Wednesday announced that it will independently develop the latest generation of car-carried domain controller platform based on the new-generation NVIDIA DRIVE Thor system-level chip, reported Shanghai Securities News.
Lenovo is the first Tier 1 company adopting the NVIDIA DRIVE Thor platform. The domain controller platform architecture based on DRIVE Thor will become Lenovo's high-end core product line in car computing in the future, and related products are expected to be mass-produced in early 2025.
According to Lenovo, DRIVE Thor is able to integrate various functions of intelligent vehicles into one AI computing platform to realize intelligent driving and intelligent cockpit functions, including autonomous driving, parking, driver and passenger monitoring, etc. With high-end AI technology, the NVIDIA DRIVE Thor platform will help Lenovo strengthen its self-developing ability in the high-end intelligent driving domain controller platform field.
Lenovo's strong heterogeneous computing technology, product innovation and product delivery capabilities are perfectly integrated with NVIDIA's advanced AI and accelerated computing technology through this partnership which will push Lenovo to create safe car computing products and solutions in advanced driving assistance, intelligent driving and cockpit-driving integration, said Lenovo's chief technology officer and senior vice president Rui Yong.
(Edited by Gu Shanshan with Xinhua Silk Road, gushanshan.1987@163.com)