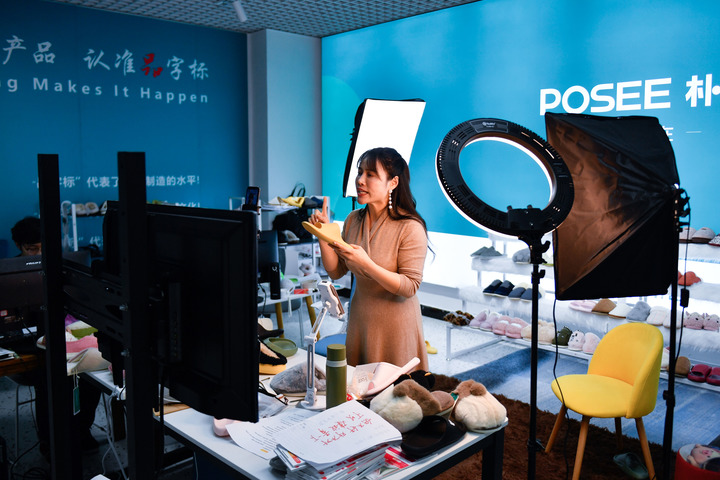 A host introduces products on live broadcasting in Yiwu, east China's Zhejiang Province, Feb. 8, 2021. (Xinhua/Huang Zongzhi)
BEIJING, Feb. 28 (Xinhua) -- Zhejiang China Commodities City Group Co., Ltd. (600415.SH, Commodities City) and Shanghai Waigaoqiao Free Trade Zone Group Co., Ltd. (600648.SH, Waigaoqiao) on Monday signed a strategic cooperation agreement to jointly promote the development of Silk Road e-commerce, reported China Securities Journal.
Through this cooperation, the two companies will leverage each others' strengths to serve China's building of the new development pattern that features positive interplay between domestic and international economic flows.
By enhancing their capabilities of global resource allocation and promoting digitalization, refinement and specialization of supply chain services in the foreign trade market, Commodities City and Waigaoqiao are committed to building a global supply chain service system to achieve coordinated development between domestic and foreign trade, as well as between import and export businesses.
In recent years, Commodities City has been accelerating its digital transformation, working with multiple parties across various sectors to build both a real economy ecology centered with the market and a digital economy ecology based on the China goods platform, a comprehensive online service platform for digital trade.
Through extending its business scope to related sectors such as big data, import trade, warehousing and logistics, supply chain finance, international trade, hotel management, real estate, exhibition and tourism, etc., the company strives to grow into a comprehensive service provider to better support more micro, small and medium enterprises in the country.
(Edited by Yu Huichen with Xinhua Silk Road, yuhuichen@xinhua.org)