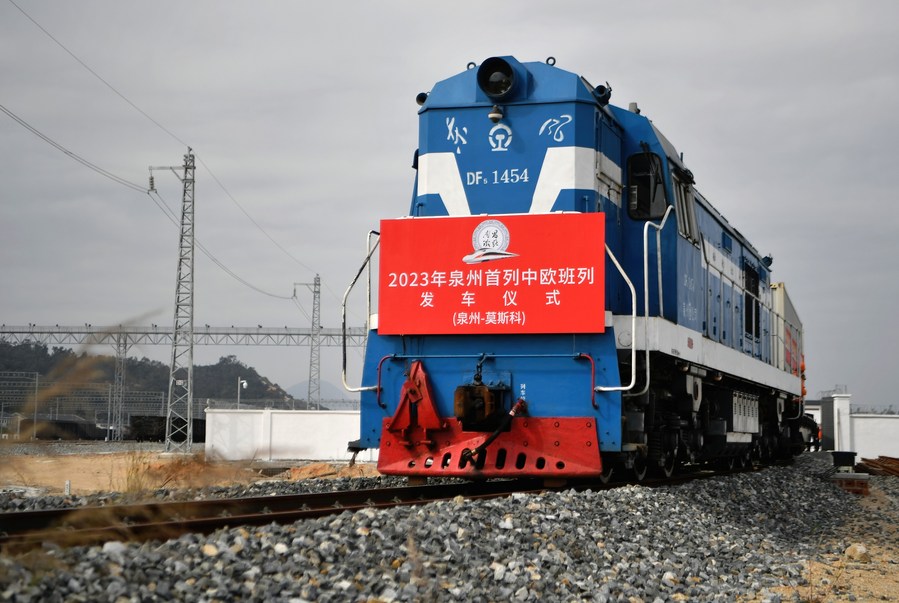 A China-Europe freight train leaves from Huangtang railway station on Xingguo-Quanzhou railway in Huian County, Quanzhou City of east China's Fujian Province, Feb. 3, 2023.(Xinhua/Wei Peiquan)
BEIJING, Feb. 16 (Xinhua) -- Up to now, Longyan City in east China's Fujian Province has handled a total of 9 China-Europe freight trains since its launch in April 2022, which greatly enhances the city's opening-up to the outside world.
According to China News Service (CNS) report on Thursday, the international logistics service will further facilitate the trade between Longyan and European countries and expand the economic and trade cooperation between Longyan and the Belt and Road Initiative (BRI) countries and regions.
In 2022, Longyan's exports reached 33.22 billion yuan, up 4.6 percent year on year while imports amounted to 22.49 billion yuan, up 18.7 percent year on year, ranking the second in Fujian Province, according to Bureau of Commerce of Longyan.
The city also highlights the development of cross-border e-commerce. Since the establishment of a comprehensive pilot zone for cross-border e-commerce was approved in April 2020, the city has seen 47 cross-border e-commerce enterprises settled in 2022 alone, with cross-border e-commerce exports reaching 2.15 billion yuan.
At the same time, the city steps up every effort to attract investment. In 2022, the actual utilization of foreign investment reached 40.96 million U.S. dollars, a year-on-year increase of 17 percent and 15.2 percentage points higher than that of Fujian Province.
In terms of outbound investment, the city registered 6 new overseas investment projects in 2022, with the actual outbound investment of 140 million U.S. dollars, ranking the first in Fujian Province.
(Edited by Tian Shenyoujia with Xinhua Silk Road, tianshenyoga0524@163.com)