BEIJING, Jan. 19 (Xinhua) -- A slew of indicators in port logistics, shipping and cross-border e-commerce have been released recently, which boosted optimism and confidence of foreign trade enterprises and economists in China's foreign trade in 2023.
-- Busy ports
A busy port usually indicates thriving trade, which is the case of Qingdao Port in east China's Shandong Province.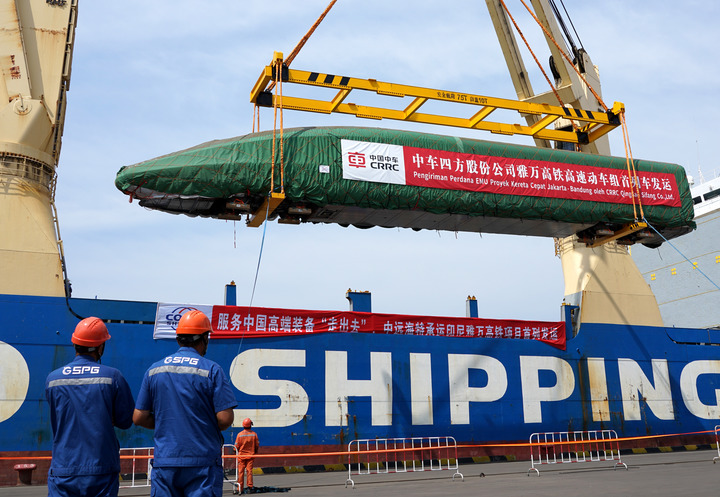 This photo taken on Aug. 18, 2022 shows a high-speed electric passenger train, customized for the Jakarta-Bandung high-speed railway, being loaded on a vessel in Qingdao Port of east China's Shandong province. (Photo by Jiang Chao/Xinhua)
The port saw increases in throughput and berth utilizationin the first 10 days of January 2023, registering a year-on-year increase of 25.6 percent and 9.2 percent, respectively, said an official with the wharf.
Container throughput at China's ports recorded a recovery in December 2022, and about 30.47 million tonnes of goods were handled at the country's ports on Jan. 17, data from the Ministry of Transport showed.
The Port Logistics Index (PLI) complied by the country's State Information Center and iTink, an Internet of Vehicles firm, also echoed the ministry's data. The PLI was 84.49 in December, up 2.31 percent month-on-month.
"The month-on-month increase of these high-frequency indicators related to foreign trade indicates that China's foreign trade has grown steadily and showed strong resilience under the impetus of domestic policies," Yang Daoling, a staff member of the big data development department, the State Information Center.
-- Diversified global markets
Customs data showed that China's imports and exports to the the Association of Southeast Asian Nations (ASEAN), the European Union and the United States increased by 15 percent, 5.6 percent and 3.7 percent in 2022, respectively. Over the same period, trade with Belt and Road countries also climbed 19.4 percent to account for 32.9 percent of China's total foreign trade., an increase of 3.2 percentage points, while the imports and exports to members of RCEP increased by 7.5 percent.
The Belt and Road economic and trade cooperation has also made steady progress. According to the data of Ningbo Shipping Exchange, the Maritime Silk Road trade index in November 2022 was 256.63, up 4.6 percent year on year and 5.6 percent month on month.
Shipping industry has thus flourished thanks to the multi-destination trade choices. According to the China Import Containerized Freight Index (CICFI) published by the Shanghai Shipping Exchange (SSE), the indices for Australia and New Zealand routes, the Mediterranean route and the South American route had all seen growth as of January 2023.
Doosan Infracore China Co., Ltd., a machinery manufacturer, accredited its performance to the choice of diversified international markets. The company made great efforts to explore various global market, with its products sold to Europe, the Middle East, Africa, South America and other countries and regions.
Pang Chaoran, a researcher with an institute under the Ministry of Commerce, said that China's enterprises have actively sought to settle in the international markets, making Chinese products more recognized around the globe. As a result, there are alternatives of import sources and export destinations, which also enhances the resilience of the country's foreign trade.
-- Booming cross-border e-commerce
The fast-growing cross-border e-commerce has become a highlight in China's foreign trade in recent years. According to the preliminary estimate of the customs, China's cross-border e-commerce imports and exports stood at 2.11 trillion yuan in 2022, up 9.8 percent year on year.
"In recent years, cross-border e-commerce has seen rapid development. Thanks to the supporting policies, the advantages and potential of cross-border e-commerce are expected to be further released," said the GAC spokesman.
The positive momentum is also seen by the platforms of cross-border e-commerce. For example, Alibaba international station has found that high-quality overseas business inquires have increased by 31 percent since July 2022, which reflects growing confidence in China's foreign trade from the buyers.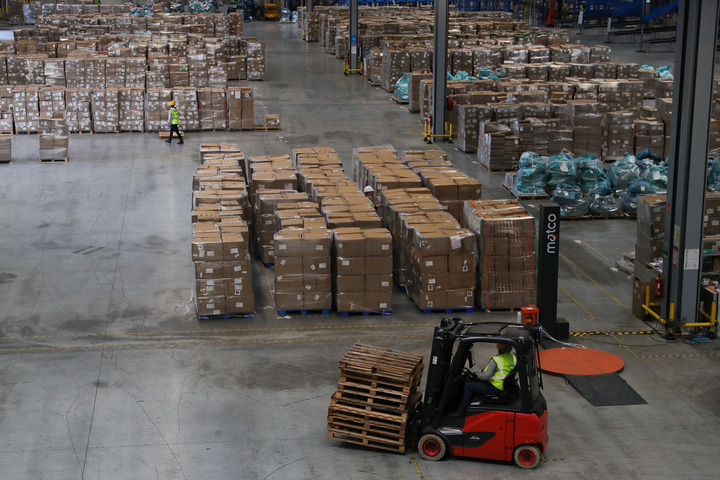 People work at Cainiao Network's smart logistics hub at Liege Airport in Grace-Hollogne, Liege Province, Belgium, on Nov. 8, 2021. Cainiao Network, the logistics arm of China's Alibaba Group, officially opened Monday its first smart logistics hub at Liege Airport in Belgium. (Xinhua/Zheng Huansong)
The personalized clothing, new energy and industrial laser machinery sectors are the most popular ones on the Alibaba platform, all seen growth in the number of buyers and transactions.
Pang said that based on the solid foundation of China's manufacturing industry with complete categories and supporting facilities, China can meet various needs of the overseas market with increasingly competitive products. Thus, "Made in China" has been recognized in more overseas markets.
(Edited by Li Shimeng with Xinhua Silk Road, lishimeng@xinhua.org)