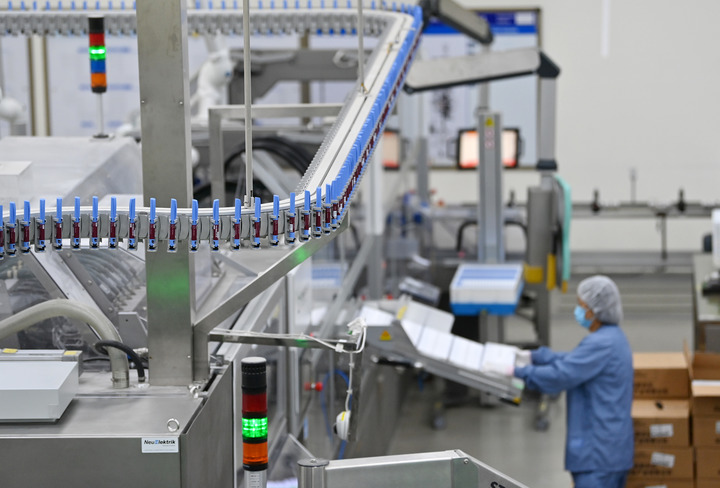 A staff member works at a workshop of Novo Nordisk (China) Pharmaceutical Co., Ltd. in north China's Tianjin, Sept. 22, 2022. (Xinhua/Li Ran)
BEIJING, Jan. 19 (Xinhua) -- Foreign companies have cast a vote of confident and doubled down on their investment in China since the beginning of this year.
Experts believe that at present, China's economic growth is positively projected, providing new opportunities for the development of foreign companies. The increase of foreign capital in Chinese market and the acceleration of investment layout reflect the keen market olfaction of foreign companies, as well as their confidence and determination to cultivate the Chinese market.
-- Accelerated project signing and construction
On January 12, Kunshan, Suzhou Industrial Park and Wujiang coincidentally held foreign investment project signing activities, and a number of major foreign investment projects were landed, including two major foreign investment projects of Swire Coca-Cola and Bosch new energy vehicle core components and automatic driving R&D and manufacturing base projects.
On January 10, German Allgaier Lightweight Auto Body Project, a foreign investment project in Xuchang, central China's Henan Province, received its first batch of foreign capital of 2.5 million euros, marking an auspicious start for foreign investment in Xuchang.
Since this year, several major foreign investment projects have been signed and landed, and new progress has been made in the use of foreign investment, while the construction of many foreign investment projects is also being accelerated.
In Xiamen, southeast China's Fujian Province, Schneider Electric's new generation of digital power quality meter came into operation and a new flexible transfer line was launched simultaneously.
In Chengdu, southwest China's Sichuan Province, Airbus' first aircraft lifecycle services project outside Europe is progressing in an orderly manner.
In Suzhou High-speed Railway New Town, the construction of office towers, basements and floor equipment installation is being accelerated at the site of the Sino-Dutch Science and Technology Innovation Park project.
At present, China's economic growth is anticipated to continue to strengthen, the market opportunities are released at an accelerated pace, and foreign enterprises are keen to seize the market trends and speed up their investment layout, which will not only lay a better foundation for foreign enterprises to grow their business throughout the year and beyond, but will also help China's annual growth in foreign investment, said Hao Hongmei, deputy director of the Foreign Investment Institute of the Chinese Academy of International Trade and Economic Cooperation (CAITEC).
-- Continued additional investment
In Huizhou, south China's Guangdong Province, the new plant of AGC Inc, a global leader in materials, is under construction, which is the fourth phase of AGC's plant construction in the region.
The project manager introduced that AGC has made additional investments in this project in Huizhou due to increased customer demand for LCD panels. As planned, the new plant will be put into operation in the fourth quarter of this year.
Continued additional investment in China has brought tangible gains to the development of foreign companies.
AGC continues to build additional factories and invest in China for display glass, which contributes significantly to the growth of AGC group's performance, said Toshiyuki Fukuda, chairman of AGC Display Glass (China).
The Estée Lauder Group feels the same way. Since 1993, the Estée Lauder Group has continued to invest in China to expand its local presence.
Today, China has become a "second home" for the Estée Lauder Group, and the Group's net sales in China have almost doubled in the last three fiscal years, recalled Fan Jiayu, president and CEO of Estée Lauder Group China.
Experts believe that foreign companies' continuous additional investment in China is a vote of confidence in the advantages of China's large-scale market and perfect and efficient industrial system, and is a reflection of the accelerated recovery of the Chinese economy and the increasing attractiveness of the Chinese market.
-- Layout of R&D centers
The Estée Lauder China Innovation and Research Center, covering an area of 12,000 square meters, was recently opened in Shanghai.
With the establishment of the new R&D center, the company continues to increase its innovation and R&D capabilities, which will bring more new products that are suited to the needs, expectations and aesthetics of Chinese consumers, Fan Jiayu said.
The ever-opening Chinese market and the increasingly improved business environment have led more and more foreign companies to choose to set up headquarters, manufacturing bases and R&D centers in China.
At present, China's manufacturing industry has outstanding advantages in attracting foreign investment, with not only the industrial chain and market, but also efficient government services and a continuously optimized business environment, as well as comprehensive advantages in labor costs such as skilled technical workers, engineers and R&D personnel needed for manufacturing, said Zhang Fei, deputy director of the Foreign Investment Institute of CAITEC.
These advantages are prompting more foreign companies to choose to lay out their manufacturing bases and R&D centers in China, according to Zhang. (Edited by Yang Yifan with Xinhua Silk Road, yangyifan@xinhua.org)