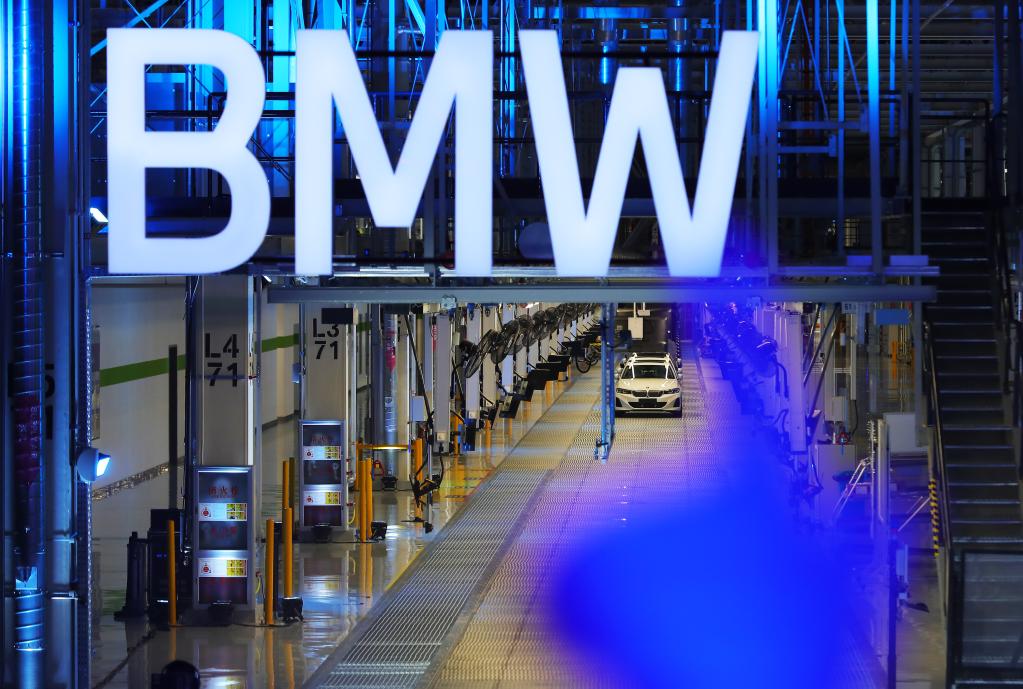 BMW i3 electric cars are pictured during the inauguration ceremony of Plant Lydia of BMW Brilliance Automotive (BBA) in Tiexi District of Shenyang, northeast China's Liaoning Province, June 23, 2022.(Xinhua/Yang Qing)
LAS VEGAS, the United States, Jan. 8 (Xinhua) -- German auto giant BMW AG would continue to deepen cooperation with its Chinese partners due to China's market and strong innovation capability, said its Chairman of the Board of Management Oliver Zipse.
Zipse said this in an interview here with Xinhua and other Chinese news outlets on Thursday when attending the 2023 Consumer Electronics Show (CES), which concluded here on Sunday.
The four-day event drew more than 3,200 exhibitors from over 170 countries and regions. Among them were hundreds of Chinese companies, including well-known brands like TCL, Lenovo, and Hisense as well as startups.
Zipse said BMW has always called China "a second home," definitely not part of that voice advocating decoupling Germany from China. The company "thinks engagement is better than judgement. To do something together with China is more important than judging daily issues," he added.
He pointed out that the motivation for cooperation between BMW and its Chinese partners came from two aspects. One is the market, as China has already been the largest market for BMW; the other is innovation, since BMW's development strategy could not be realized without inspiration and innovation from China.
"A lot of things happening in the tech world are starting in China, and then are being extended to the world," Zipes said, citing BMW's i7 Series, the latest electric luxury sedan launched in China in December, as the best example.
"There was a specific inspiration about the rear seat entertainment, which was inspired by China, but in the end, of course, this is a world car," he said.
Zipes said that he drove at least 10 different Chinese cars in the last six months in order to learn how the Chinese carmakers merge software and hardware with artificial intelligence.
"The future of the BMW Group is very clear: digital, electric and circular. The future of the BMW Group also lies in the growth and the further development of our footprint in China. Because China is the frontrunner in all three strategic areas," he said. "I'm glad to see our strategic directions perfectly match the national policies of China."
Zipse reviewed BMW's achievements in its development in China in 2022, including the release of the new model that draws inspiration from China and represents an important step for BMW's "new generation" and the completion of two major expansion projects at the Shenyang production base.
Zipse also disclosed BMW's next step in promoting digital and electrified R&D and production layout in China and mentioned that the company had announced a 10-billion yuan (about 1.46 billion U.S. dollars) investment plan to expand the power battery production capacity of BMW's Shenyang production base.
According to Zipse, based in Beijing, Shanghai, Shenyang, and Nanjing, BMW has established the largest R&D and innovation team outside of Germany. At present, BMW has about 3,200 employees in China engaged in innovation-related work, involving research and development, digitalization, electrification and other fields.
"We need more cooperation, not less. And this should be the response to global challenges. If you take global challenges seriously, it's exactly (that) the antipode of decoupling is more cooperation," he said.
"And we do not need additional international barriers, but we need actually further opening. And I think the long-standing German-Sino automotive partnership shows how talent and resources on both sides create common good," he added.
"The strong relationship between our countries has laid a great foundation to build upon and to deepen our collaboration. There will be challenges, of course, but in the long run, we are, and we remain optimistic. And looking forward, the BMW Group will work closely with our Chinese partners to foster win-win results and actively contribute to China's high-quality growth," Zipse concluded. (Tan Jingjing in Washington also contributed to the story.)