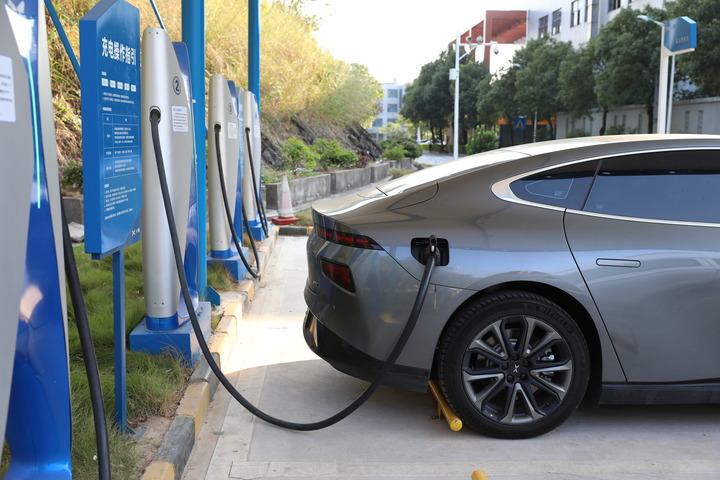 A new energy vehicle is seen charging at a service area along the Guangzhou-Shenzhen expressway in south China's Guangdong Province, Oct. 27, 2022. (Xinhua/Li Jiale)
BEIJING, Dec. 23 (Xinhua) - Jean-Marc Chery, CEO of STMircroelectronics, one of the world's leading semiconductor companies, together with the company's management team recently visited its strategic partners in China, demonstrating the company's support for the Chinese market and its commitment to local customers, reported Economic Daily on Thursday.
During this trip to China, Jean-Marc Chery-led team visited Chang'an Automobile Co. Ltd., China's electric vehicle (EV) startup Seres, Chinese battery producer Contemporary Amperex Technology Co., Limited (CATL), Jiangsu GoodWe Power Supply Technology Co., Ltd., and other strategic cooperative partners in China. At the same time, the France-based company said it is particularly optimistic about the demand and broad market for semiconductor products in China in high-growth areas such as electric vehicles.
As one of the first global semiconductor companies to operate in China, STMicroelectronics has been deeply engaged in Chinese market for nearly 40 years of work.
According to STMircroelectronics, as of 2021, the sales volume of new energy vehicles (NEV) in China has ranked first in the world for seven consecutive years. At the same time, the rapid development of NEV has led to investments in infrastructure such as fast charging stations and vehicle communication devices.
Noting the intention for choosing to visit partners in the automobile and industrial fields during this visit to China, STMicroelectronics pointed out that industry and automobile are the two markets with the strongest growth momentum in STMicroelectronics' business portfolio, and China also plays an integral role in the transformation and innovation process in these areas.
STMicroelectronics CEO's visit to China shows a strong sign of European semiconductor companies' determination to increase their investment in the Chinese market.(Edited by Jiang Feifan with Xinhua Silk Road, 346129473@qq.com)