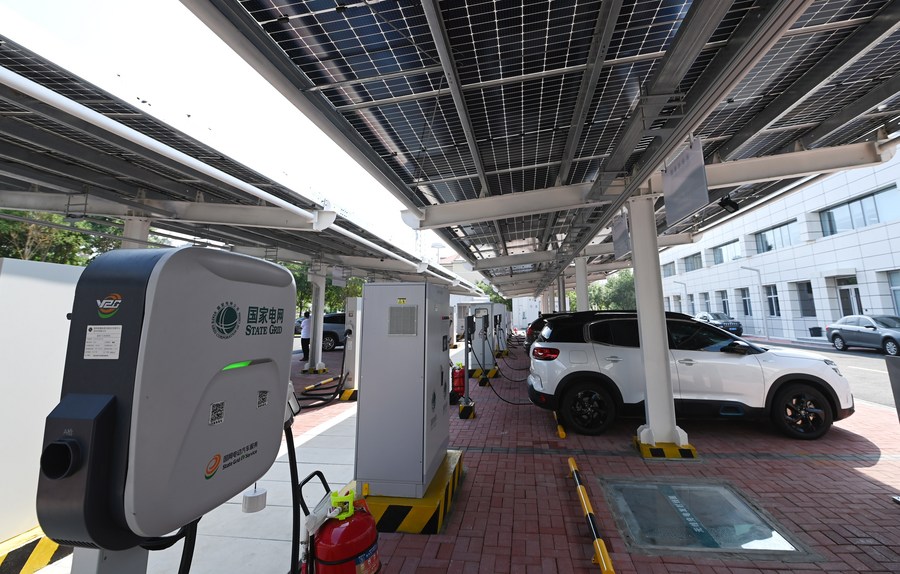 New energy vehicles are charged at the Jinmenhu New Energy Vehicle Integrated Service Center in north China's Tianjin, Aug. 18, 2021. (Xinhua/Li Ran)
BEIJING, Nov. 29 (Xinhua) -- FAW Toyota's new energy vehicle bZ4X rolled out off the production line in a newly completed NEV plant in north China's Tianjin Binhai New Area on Monday, marking the 10 millionth vehicle of the company.
In recent years, Tianjin has vigorously developed the automobile industry, and gathered a number of vehicle manufacturing enterprises such as FAW Toyota, FAW-Volkswagen, Great Wall Motor, etc., forming a complete industrial chain with R&D, production and sales trade.
It is learned that the newly completed NEV plant is FAW Toyota's fifth vehicle manufacturer base. The new plant covers an area of 1.97 million square meters and focuses on NEV production, with an annual production capacity of 200,000 units.
Moreover, the new factory introduces digital intelligent robots on a large scale, and in terms of pollutant treatment, the new energy plant minimizes water pollution, and its volatile organic compounds tend to be zero.
According to the relevant person in charge of FAW Toyota, in the first 10 months of 2022, the cumulative production of FAW Toyota's finished vehicles increased by 10 percent year on year.
(Edited by Bao Nuomin with Xinhua Silk Road, baonuomin@xinhua.org)