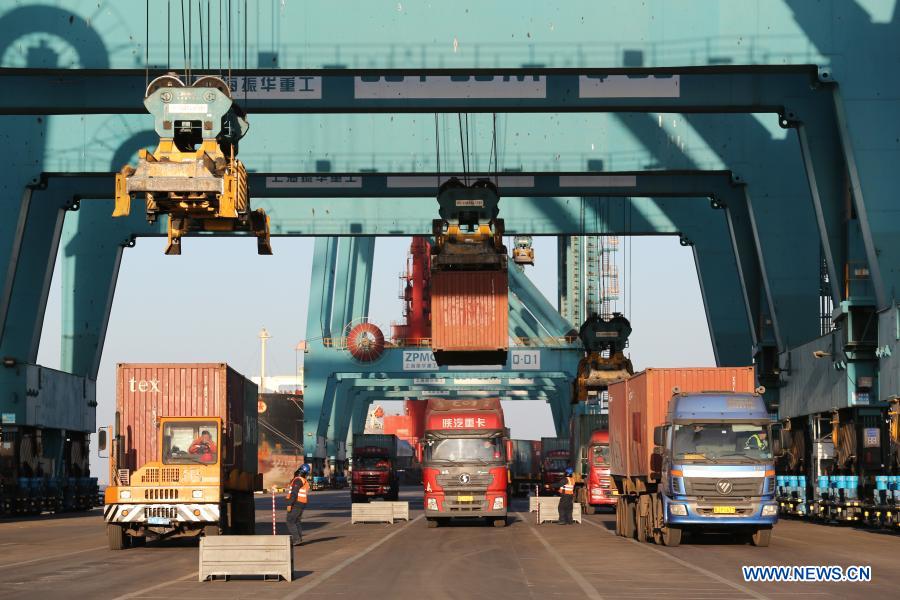 Cranes handle containers at Huanghua Port in Cangzhou City, north China's Hebei Province, Dec. 30, 2020. (Photo by Yuan Liwei/Xinhua)
BEIJING, Nov. 7 (Xinhua) -- A freighter carrying 9 containers of 218 tonnes of cargo from Shanghai arrived in Huanghua Port in north China's Hebei Province on Sunday. After being transferred by road to Shijiazhuang international land port, the goods will then take China-Europe freight train to Moscow of Russia, which is the first time of Hebei to launch sea-rail intermodal China-Europe freight train, according to Hebei Provincial Government website.
It is learned sea-rail intermodal transport mode integrates the advantages of safety, flexible road transit and low comprehensive cost. Compared with taking the land from East China to Moscow, the freight of per container is reduced by about 4,000 yuan, showing significant economic benefits.
A relevant person in charge of Cangzhou Port Group noted that currently the container liner route between Huanghua Port and Shanghai Port has achieved normal operation, which can smooth the linkage between the ports and the hinterland, and integrate resource elements of the Yangtze River Delta and the Beijing-Tianjin-Hebei region.
In the next step, Shijiazhuang international land port will strengthen the functional role of national logistics hub and multimodal transport demonstration project, so as to build a land and sea cross-border channel and create an efficient logistics operation system integrating rail and marine transportation.
(Edited by Bao Nuomin with Xinhua Silk Road, baonuomin@xinhua.org)