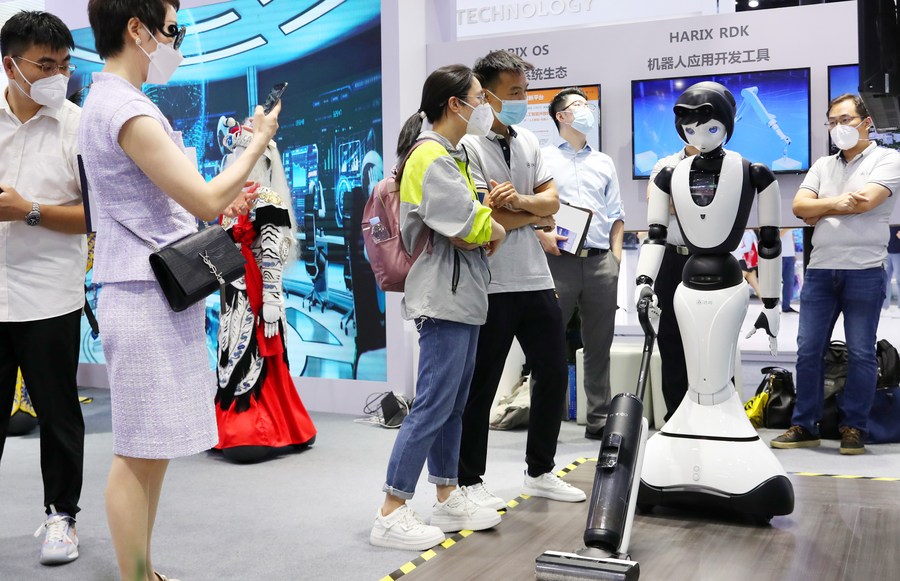 Visitors view an AI robot at the 2022 World Artificial Intelligence Conference (WAIC) in east China's Shanghai, Sept. 1, 2022. (Xinhua/Fang Zhe)
BEIJING, Sept. 30 (Xinhua) -- According to data from the China Academy of Information and Communications Technology (CAICT), in the past five years, China has seen 343,000 artificial intelligence (AI) patent applications and 60,000 authorized patents, accounting for 74 percent and 62 percent of global total, respectively. AI is playing an increasing role in China's smart city construction.
-- AI brings autonomous driving closer
As an important direction for AI application scenarios, automatic driving has always been a key study area in various countries in recent years. Currently, more than 40 Chinese companies are researching high-level driverless driving and have conducted road tests in more than 30 cities across the country.
Taking Beijing Economic-Technological Development Area (also known as Yizhuang Development Area ) as an example, the area has built the world's first networked cloud-controlled high-level autonomous driving demonstration zone, where hundreds of driverless vehicles run every day.
Up to now, Yizhuang has built 329 standard intelligent network intersections, and 750 kilometers of urban roads and 10 kilometers of highways in both directions have achieved vehicle-to-cloud integration function coverage.
Except for driverless cars, intelligent delivery vehicles can also be seen shuttling around in the area. Consumers could realize self-service pick-up, so that many office workers can be more flexible to arrange their own time.
With a maximum load of 200kg and an endurance mileage of 100km, intelligent delivery vehicles integrate 10 core technologies such as high-precision positioning, fusion sensing, behavior prediction, simulation and intelligent network connection.
Market research data showed that as of June 2021, 8,275 companies were involved in autonomous driving patent applications in China, with a total of 40,682 patents, including 14,018 authorized patents.
-- AI empowers China's smart city construction
Smart city construction is a complex research project that integrates many elements. With the increasing penetration of AI into all aspects of our production and life, the operation efficiency of the whole society is also greatly improved. In the future, AI will affect our production and life more deeply.
In Hefei Chaohu Economic Development Zone, east China's Anhui Province, a smart platform for online audit management was just launched in July this year. This platform uses big data and AI technologies to analyze the enterprises' matching degree with policies, and pushes relevant policies accurately for enterprises, so as to improve the success rate of their application.
In the past two months since the launch of the platform, a total of 18 district-level industrial policies have been pushed to more than 140 enterprises in the economic development zone for a total of 952 times.
Since the launch of the service platform for trial operation, a total of 5.88 million yuan business subsidies have been approved for the first batch of 39 enterprises, and all of them have been issued.
(Edited by Bao Nuomin with Xinhua Silk Road, baonuomin@xinhua.org)