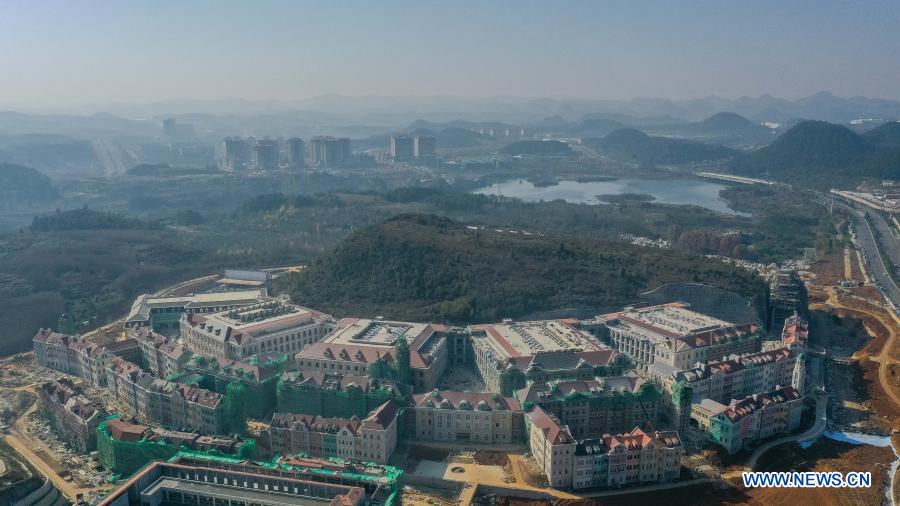 Aerial photo taken on Nov. 13, 2020 shows the construction site of the "Huawei Cloud" data center in Guian New Area, southwest China's Guizhou Province. (Xinhua/Ou Dongqu)
BEIJING, Sept. 20 (Xinhua) -- Huawei will have its cloud service available in more than 170 countries and regions by the end of this year, said Zhang Ping'an, CEO of Huawei Cloud, at Huawei Connect 2022 in Bangkok, Thailand, reported Chinanews.com Tuesday.
Zhang Ping'an said that Huawei is planning to deploy more green and intelligent cloud data centers around the world, and Huawei Cloud's Indonesia and Ireland nodes will be launched in the near future.
As one of the world's leading clouds service providers, Huawei Cloud is committed to building a global cloud network. Taking Asia-Pacific region as an example, since 2018, Huawei Cloud has built local nodes in Thailand, Singapore, Malaysia and other places. Huawei Cloud is the first public cloud manufacturer building local nodes in Thailand. Except for 3AZ data centers, Huawei Cloud also provides site services and consulting services in Thailand.
Moreover, Huawei Cloud also advanced its global industrial ecology construction. According to Shi Jilin, President of Huawei Cloud Global Marketing and Sales Services, in the Asia-Pacific region alone, more than 120 companies have joined the Huawei Cloud's Startup Program.
(Edited by Bao Nuomin with Xinhua Silk Road, baonuomin@xinhua.org)