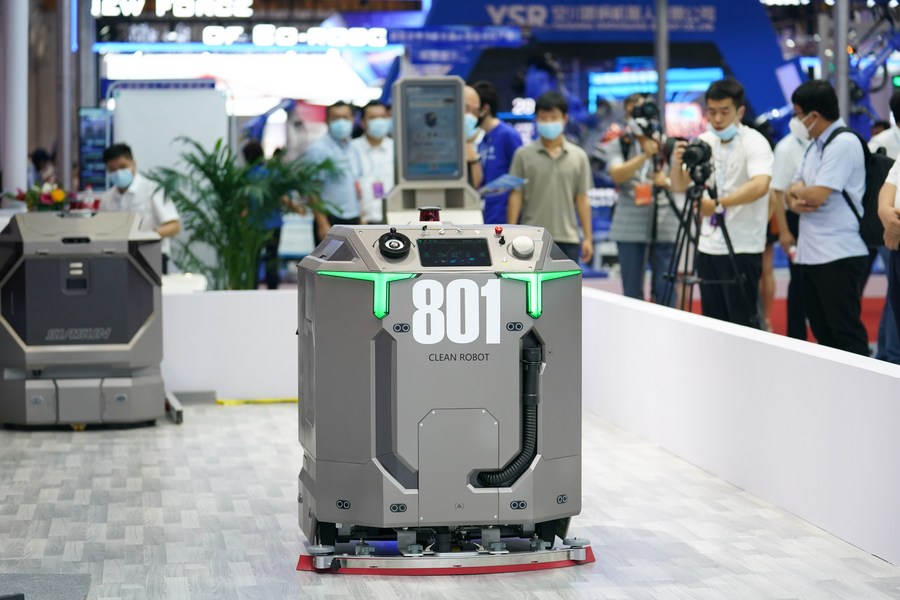 Photo taken on Aug. 18, 2022 shows an industrial cleaning robot during an expo of the World Robot Conference 2022 (WRC 2022) in Beijing, capital of China. (Xinhua/Ju Huanzong)
BEIJING, Aug. 22 (Xinhua) -- A report on the development of China's robot industry showed that China's robotics market remains growing trend, and it is estimated that the scale of China's robotics market will reach 17.4 billion U.S. dollars in 2022, reported Beijing Daily.
The reported was released on World Robot Conference (WRC) 2022, which concluded on Sunday in Beijing.
Specifically, the report predicts that the market size of industrial robots is expected to reach 8.7 billion U.S. dollars in 2022, while 6.5 billion U.S. dollars of service robots, and 2.2 billion U.S. dollars scale for special robots.
China has attached great importance to the development of robotics technology and industry. Currently, a complete robotics industry chain has been initially formed.
According to the report, China's service robot market has grown rapidly this year, and demand in education, public services and other fields has become its main driving force. By 2024, with the further expansion of emerging scenarios, scale of service robot market is expected to exceed 10 billion U.S. dollars.
From the perspective of technical strength, the report believes that core competitiveness of key components of industrial robots in China continues to improve. With the continuous development of service robots in medical, public service and other scenarios in recent years, the service robot industry has cultivated more real market demands.
(Edited by Bao Nuomin with Xinhua Silk Road, baonuomin@xinhua.org)