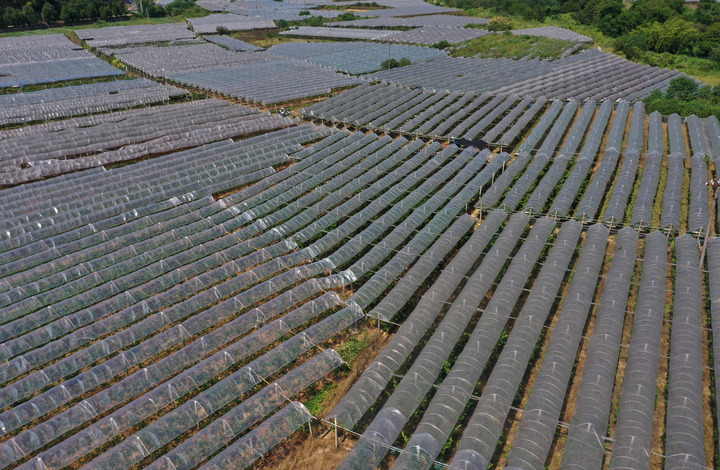 Aerial photo taken on Sept. 23, 2021 shows a grape planting base in Changning City of Hengyang City, central China's Hunan Province. (Xinhua/Zhao Zhongzhi)
BEIJING, Aug. 11 (Xinhua) -- State Grid Hunan Electric Power Company Limited (State Grid Hunan), a subsidiary of the State Grid Corporation of China, has been working on promoting rural development through upgrading power supply in recent years.
Thanks to the support and guidance in electricity use from State Grid Hunan, the grapes harvest could be registered again this year, said Zhou Xianbi, person in charge of Xianbi grape planting base, a well-known orchard in Hengyang city of Hunan province covering a planting area of more than 200 mu (about 13.33 hectares).

It is learned that State Grid Hunan has set up a special service team, which conducts regular inspection for distribution boxes, low-voltage lines, leakage protectors and other equipment in the base. Besides, the team checks potential safety hazards and guides rectification of power uses in the base as well.
Grape planting has strict requirements on temperature, water volume, and light. Electricity is needed for irrigation and fertilization. Now fully automated irrigation and mechanized planting has been adopted, which not only improves efficiency, but also greatly increases grape yield, said Zhou.
With electric irrigation, the output of grapes this year is estimated to reach 200,000 catties (about 100,000 kilograms), with an output value of about 4 million yuan, added Zhou.
Currently, three major grape producing areas in Hengyang cover an area of more than 6,000 mu (about 400 hectares). In order to meet the electricity demand for the rapid development of the grape industry, State Grid Hunan has provided all-round one-stop service for power connection, fault repair and equipment maintenance for grape planting.
Today, with the support of sufficient electricity, grape planting in Hengyang is transforming and upgrading in the direction of intensification, scale, standardization, and branding, helping increase farmers' income. (Edited by Bao Nuomin with Xinhua Silk Road, baonuomin@xinhua.org)