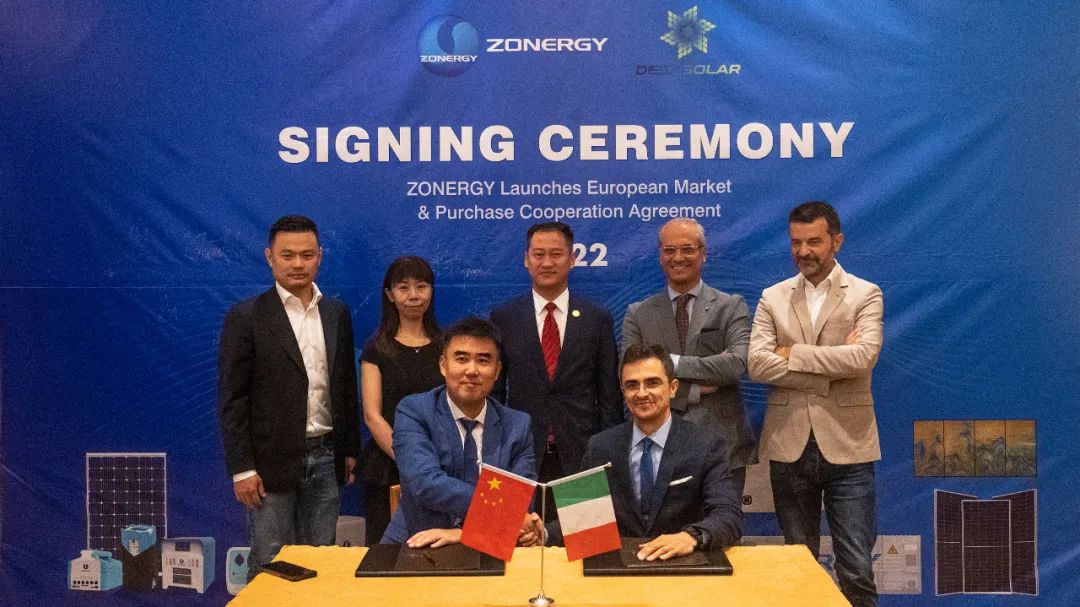 Photo taken on July 27, 2022 shows the signing ceremony between China's leading renewable energy solution provider Zonergy and Italian distributor Desasolar. (Photo provided by Zonergy)
BEIJING, July 28 (Xinhua) -- Zonergy Europe SRL(Zonergy Europe), the European arm of China's leading renewable energy solution provider Zonergy Corporation (Zonergy), signed a cooperation agreement with an Italian company Desasolar on Tuesday in Milan, Italy, to jointly explore the European energy market.
According to a company release reaching here on Thursday, for the distribution of its solutions in Italy, Zonergy will work in synergy with Desasolar, the new business unit of Desa SRL (company specialized in electronics products distribution with 130-million-euro revenue) under the coordination of Obor Group.
Zonergy Europe represents Zonergy's efforts to increase its presence in Europe with its advanced solar panels, inverters and energy storage solutions.
Under the agreement, Zonergy Europe and Desasolar will work together to produce safe and reliable products and solutions to better serve clients in Italy and other European countries and contribute to the green transition in European energy sector.
Kevin Changbin Qiu, Executive Vice President of Zonergy, said that renewable energy sources, with its strong momentum, will make a difference in the green transition of Europe and beyond. With extensive years of R&D in renewable energy sector, Zonergy is more than ready to enter the European market. The company will roll out more innovative and smarter products and solutions to accelerate the development of energy storage industry in Italy and other European countries.

Francesco Desantis, CFO of Desasolar, noted that energy is one of the most important issues of our times. Desa SRL draws inspiration from values that require us to do our part in order to deliver a better world to future generations.
"We are honoured to be able to collaborate with Zonergy and we are confident that we can make a huge contribution, by allocating all the necessary resources, so that this partnership can take off very quickly, creating value not only for the stakeholders but also for the whole of Italy, which is struggling today with great energy difficulties," he added.
The recent-announced REPowerEU Plan presents great opportunities to renewable energy providers, as it has raised European Union (EU)'s renewable energy target to 45 percent by 2030, meaning that the installation volume of photovoltaic (PV) systems is expected to nearly double and grow to 320 GW by 2025.
Zonergy said that it will take these opportunities to expand its global presence by providing more efficient, safer and smarter PV and energy storage systems to European market.
Founded in 2007, China's Zonergy Corporation is a high-tech enterprise specialized in smart microgrid integrated solutions with a world reputation. After years of development, Zonergy is well-equipped with technical expertise and project experience. With its first-class R&D team, project implementation team and market exploration team, Zonergy is able to develop business in most parts of its home country, in overseas countries along the Belt and Road (B&R), and in Europe through providing customers with premium quality microgrid solutions and services.
(Edited by Li Shimeng with Xinhua Silk Road, lishimeng@xinhua.org)