BEIJING, July 5 (Xinhua) -- The recently concluded 14th BRICS Summit and other high-profile events have shed light on enhanced BRICS mechanism and concerted efforts of the members to promote win-win cooperation and chart the course for global development.
Since 2006, based on the complementary advantages, the BRICS countries have committed to exploring cooperation potential and expanding cooperation areas, setting up a cooperation example for emerging economies and developing countries.
Assuming the BRICS chairmanship this year, China has held more than 70 conferences and activities, covering politics, security, trade and finance, people-to-people exchanges, sustainable development and public health, with the 14th BRICS Summit Beijing Declaration issued at the summit.
-- BRICS power for global growth

Twenty-one years ago, when British economist Jim O'Neill coined the term "BRIC" -- an acronym for Brazil, Russia, India and China, it read like investment advice, pointing to promising prospects for emerging economies.
With South Africa added in 2010 to become the "BRICS," the group, representing a quarter of the global GDP, 18 percent of global trade and 25 percent of the world's foreign investment, has become a vital platform for strengthening cooperation among the five countries and a vital force for improving global governance.
Trade cooperation among the BRICS countries has seen remarkable progress over the years.
In 2021, trade between China and other BRICS countries amounted to more than 490 billion U.S. dollars, a year-on-year increase of 40 percent. From January to May this year, the trade maintained a relatively high growth rate of 16 percent year on year to reach 205.1 billion U.S. dollars.
Trade cooperation has become a vital part linking five member countries, said China's Vice Commerce Minister Wang Shouwen.
Beijing Declaration laid out priorities and directions for BRICS economic and trade cooperation, endorsing a slew of documents on digital economy, trade, investment and sustainable development and supply chains.
According to the BRICS Digital Economy Partnership Framework, BRICS countries will advance the development of the digital economy by accelerating port digitalization, encouraging digital infrastructure investment and empowering micro, small and medium-sized firms, with an aim to embark on the journey of digital era together.
An initiative on trade, investment and sustainable development, focused on building enabling trade and investment environment and improving capacity building, opposed green trade barriers, and proposed green, sustainable development path.
Regarding supply-chains cooperation among BRICS countries, a related initiative underlined that BRICS countries should jointly keep the security and stability of the global supply chain, rather than severing supply chain and decoupling from each other.
-- High-quality partnership against grave challenges

"The BRICS is a very important group internationally. So it's a very, very substantial chunk of our planet and our international economy," said Egyptian Ambassador to China Mohamed Elbadri.
Facing the still raging COVID-19 pandemic, the five members jointly proposed an initiative to promote exchanges and cooperation on vaccine research and development (R&D), testing and factory building.
The BRICS Vaccine R&D Center was launched by the five nations in March this year. According to the Chinese biopharmaceutical company Sinovac, the operator of the BRICS Vaccine R&D Center- China Center, China has made progress in the pragmatic cooperation on COVID-19 vaccines with Brazil and South Africa. Since June 2020, Sinovac has carried out cooperation with the Butantan Institute of Brazil to produce vaccine locally.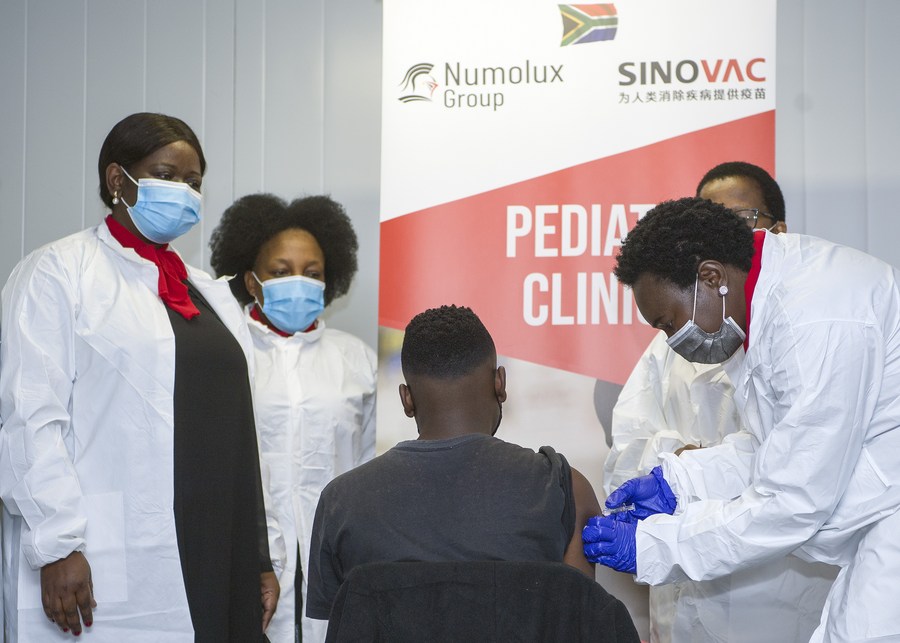 A medical worker administers a dose of the Sinovac's CoronaVac vaccine to a teenager in Pretoria, South Africa, Sept. 10, 2021. (Xinhua/Chen Cheng)
As of December 2021, the BRICS Vaccine R&D Center- China Center had supplied 62,000 litre semi-finished vaccine products to Brazil, which is expected to produce 100 million doses of vaccine.
Apart from fending risks caused by the pandemic, BRICS countries also highlight the significance of people-to-people exchange in promoting friendship between people of the five countries and facilitating cooperation among the five nations.
The BRICS countries have made further progress in the fields of governance, culture, education, sports, arts, films, media, youth and academic exchanges. For example, the establishment of the BRICS Technical and Vocational Education and Training (TVET) Cooperation Alliance will promote communication, dialogue, and substantial cooperation in TVET, integrate TVET with industry, enhance research collaboration and support recognition of TVET standards.
-- "BRICS Plus" towards shared future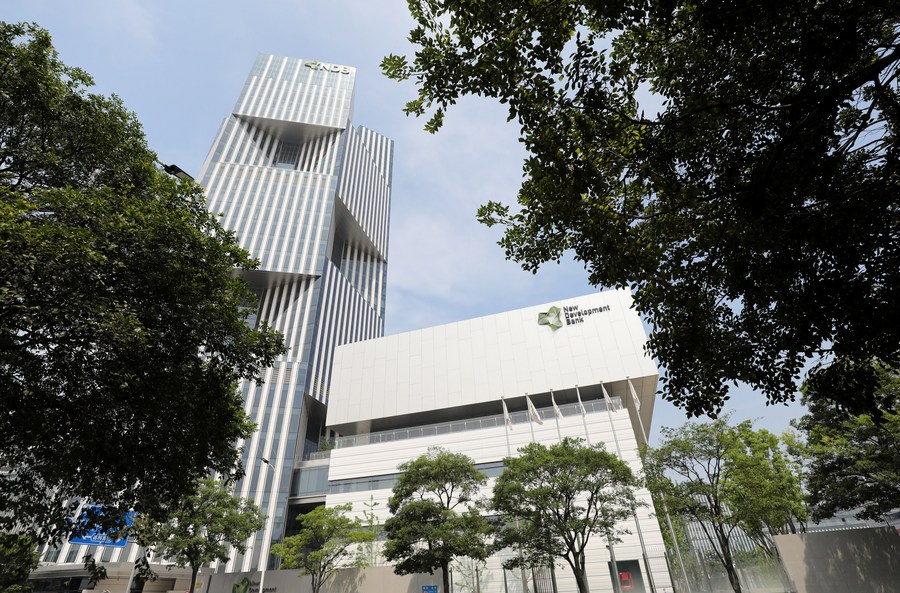 Aerial photo taken on June 17, 2022 shows the headquarters building of the New Development Bank (NDB) in east China's Shanghai. (Xinhua/Fang Zhe)
In 2017, China steered its involvement of other nations into what has become known as "BRICS Plus" by building a more comprehensive partnership with other developing countries and organizations to turn BRICS into a more influential platform for South-South cooperation.
The New Development Bank (NDB), a lender established by the BRICS, admitted four new members including Bangladesh, Egypt, the United Arab Emirates (UAE) and Uruguay in 2021.
The first "BRICS Plus" dialogue at the foreign minister level was held this year to further advance construction of the BRICS mechanism.
The activities of BRICS, in connection with its large territorial, human, economic potential, will be further expanded within the framework of "BRICS Plus", according to Rosalia Varfalovskaya, a leading researcher of the Russian Academy of Sciences.
Gu Qingyang, an associate professor at the Lee Kuan Yew School of Public Policy of the National University of Singapore, said that expanding BRICS cooperation will be more conducive to rallying developing countries to tackle global challenges.
(Edited by Li Shimeng with Xinhua Silk Road, lishimeng@xinhua.org)