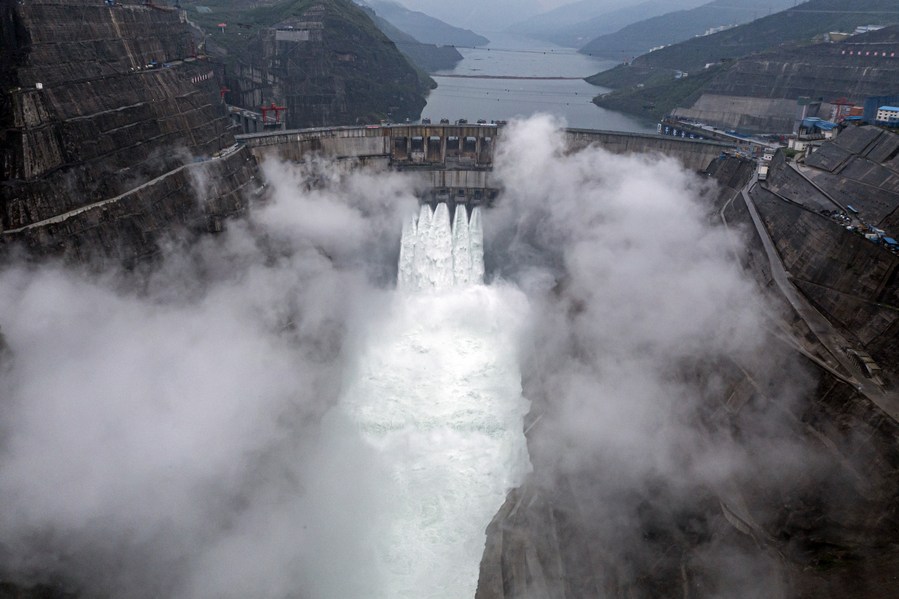 Aerial photo taken on July 1, 2021 shows the Baihetan hydropower station in southwest China. (Xinhua/Jiang Wenyao)
BEIJING, July 5 (Xinhua) -- A number of major projects have started construction recently in China, with most of them focusing on the fields of energy and transportation, providing support for stable economic development, reported Economic Information Daily.
On July 1, the Laicheng 101 megawatts (MW)/206 megawatt hour (MWh) energy storage station of Huadian Power International Corporation Limited started construction. It is one of the second batch of energy storage demonstration projects in east China's Shandong Province, and the first to start construction among the batch.
The project has a total investment of about 450 million yuan, and can charge 206 MWh of electricity at a time which can meet the electricity demand of about 1,000 households for one month.
When put into operation, the project will consume about 100 million kilowatt hour (kWh) of new energy electricity annually and help reduce coal consumption by about 31,000 tonnes (metric tons).
On the same day, the third batch of major projects in east China's Anhui Province, with the number standing at 942, started construction. The projects have a total investment of 667.5 billion yuan, and involve 12 industries such as strategic emerging industries, infrastructure and social undertakings.
On July 1, the ±800 kilovolt (KV) ultra high voltage direct current (UHVDC) transmission project from Baihetan of southwest China's Sichuan Province to east China's Jiangsu Province was completed and put into operation. It is a strategic artery of China's west-east power transmission project as well as the world's first hybrid cascaded UHVDC project.
It is learned that with a total investment of 30.7 billion yuan, the project can drive about 100 billion yuan of investment in power supply and related industries, and create more than 20,000 jobs.
On June 30, the desert highway from Yuli County to Qiemo County in northwest China's Xinjiang Uygur Autonomous Region was officially opened to traffic, marking the completion China's third highway across the Taklimakan Desert, and making the total length of China's roads across the world's second largest drifting desert exceed 1,200 kilometers.
The successful completion of these major projects shows the all-round joint force of scientific research, industries, capital and talents, as well as the "Chinese wisdom" and the "Chinese solution".
In the short term, strengthening the construction of major projects is conducive to fully stimulating domestic demand as well as economic growth, and in the long term, it is also of great significance to accelerating China's industrial transformation and strengthening national security, noted Fan Ruoying, a researcher with the Bank of China research institute.
(Edited by Zhang Yao, Gu Shanshan with Xinhua Silk Road, gushanshan.1987@163.com)