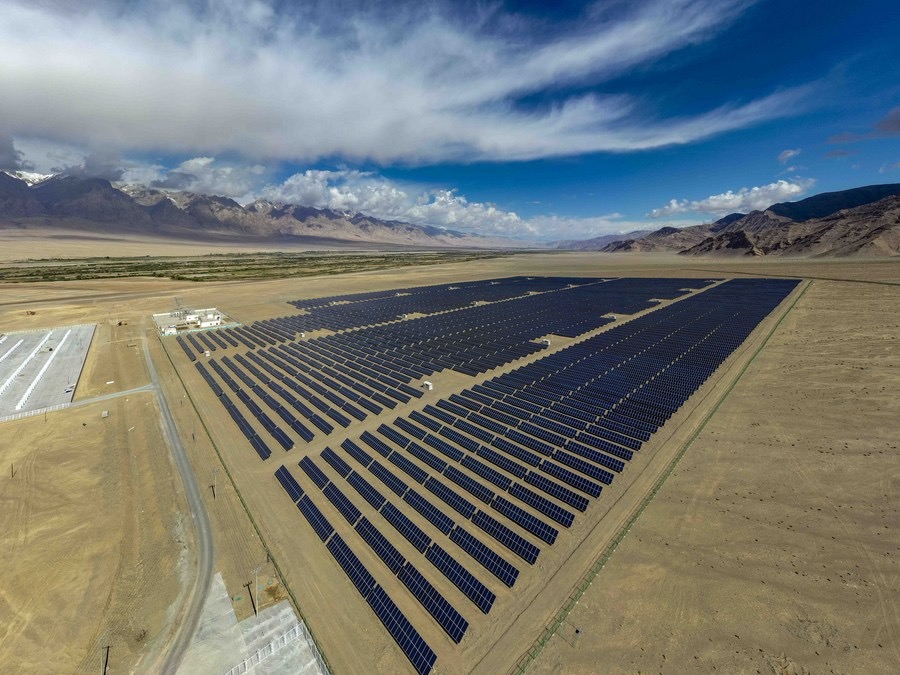 Aerial photo taken on June 15, 2020 shows a photovoltaic power station, a poverty alleviation project aided by south China's Shenzhen City, in Taxkorgan Tajik Autonomous County, northwest China's Xinjiang Uygur Autonomous Region. (Xinhua/Hu Huhu)
BEIJING, June 27 (Xinhua) -- China is expected to see its newly installed capacity of photovoltaic power reach around 100GW in 2022, reported Shanghai Securities News on Sunday.
It is attributable to the construction of large-scale wind power and photovoltaic bases in batches in desert areas, the implementation of distributed photovoltaic pilot projects on rooftops in counties and various "photovoltaic+" projects.
Meanwhile, the country's wind power will grow steadily in 2022, with onshore wind power expected to add more than 50 million kW to the grid and offshore wind power to add around 6 million kW, for a total of 56GW.
China is thus to see its cumulative installed capacity of photovoltaic power far surpass wind power for the first time in 2022.
(Edited by Dai Jingjing with Xinhua Silk Road, aime_jenny@163.com)