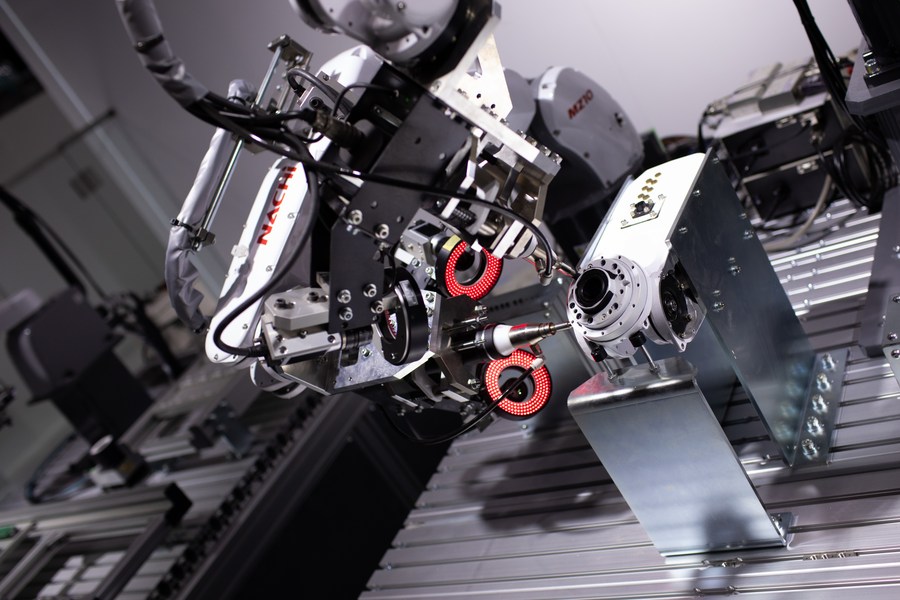 Photo taken on Nov. 7, 2021 shows a robot arm equipped with compound eye imaging system at the Intelligent Industry & Information Technology Exhibition Area of the 4th China International Import Expo (CIIE) in east China's Shanghai. (Xinhua/Jin Liwang)
BEIJING, June 27 (Xinhua) -- Shenzhen-based Chinese firm Electric Connector Technology Co., Ltd. (ECT, 300679.SZ) announced on June 26 that it plans to acquire relevant equity and shares from Future Technology Devices International Limited (FTDI)'s upper investors and the 19.8 percent shares of FTDI holding by Stoneyford Investments Limited, a company registered in the Island of Guernsey, by issuing shares and paying cash, reported stcn.com.
After the acquisition, FTDI will become ECT's share-holding subsidiary.
Public information shows that FTDI was founded in 1992, with its registration place as Glasgow, UK, and its business operation headquarters located in Singapore. It is a global leader in USB bridge chips.
FTDI's USB bridge chips are analog chips and are widely used in automotive electronics, Internet of things (IOT), industrial products, medical equipment, new energy and high-end consumer electronics. At present, its market share in this field ranks one of the leaders in the world, and its products are sold to more than 50 countries around the world.
According to ECT, this transaction will help the company expand the scale of product cycle in domestic and foreign electronic components sectors, and improve its profitability and sustainable development ability through the synergistic effect between the company and FTDI in sales channels, research and development (R&D) technology and other aspects.
(Edited by Zhang Yao, Gu Shanshan with Xinhua Silk Road, gushanshan.1987@163.com)