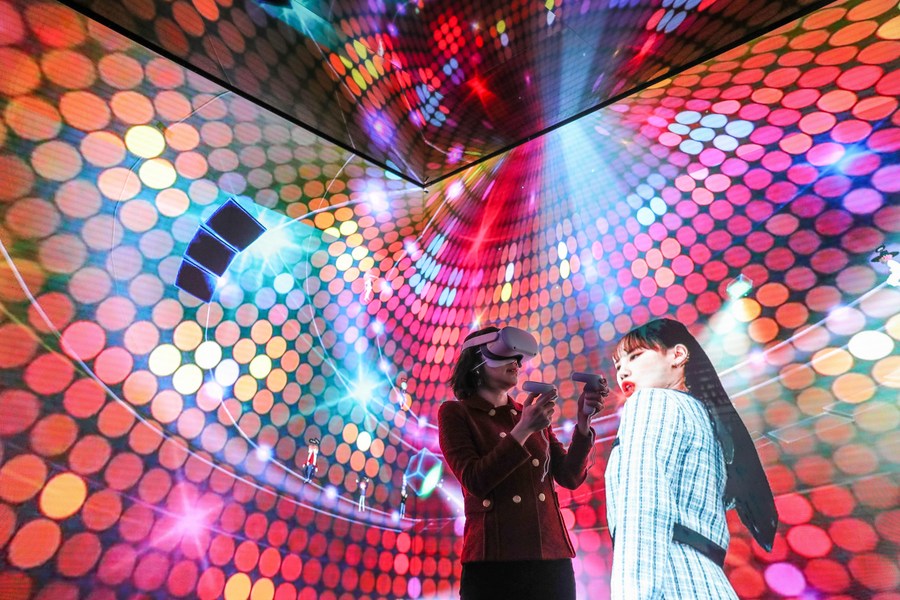 A woman tries the "Metaverse" via VR technology at the Mobile World Congress (MWC) in Barcelona, Spain, March 1, 2022. (Xinhua/Zheng Huansong)
BEIJING, June 27 (Xinhua) -- During the recently-held VidCon US 2022, an event gathering world's leading digital creators and platform innovators, Wondershare Technology Group Co., Ltd. (Wondershare, 300624.SZ) displayed for the first time its Wondershare Creator Club, reported Shanghai Securities News on Sunday.
The Wondershare Creator Club was launched on The Sandbox, a global digital property metaverse platform. Located in the core area of The Sandbox's virtual land, the Wondershare Creator Club is one of the highest and largest digital buildings on the platform providing the most diversified experience.
Striving to build an empowering platform for global creators and their partners to establish new connections with their fans and consumers in a metaverse context, the Wondershare Creator Club integrates multiple functions including exhibition, event holding, communication and exchange among creators, brands and fans, as well as display of brand, creation tool and creative resource.
In the future, Wondershare is planning to replicate the experience of entering The Sandbox, in a bid to promote cooperation with more metaverse platforms such as Decentraland and Baidu's Xirang, according to a representative of the company.
(Edited by Yu Huichen with Xinhua Silk Road, yhc0267@163.com)