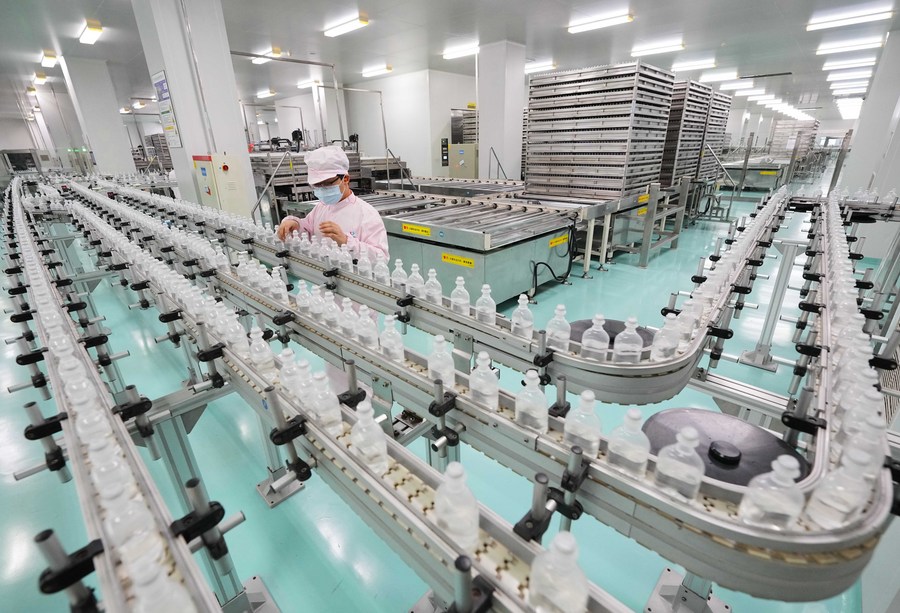 A worker operates at the workshop of a pharmaceutical company in Shijiazhuang, north China's Hebei Province, Jan. 14, 2022. (Xinhua/Yang Shiyao)
BEIJING, June 24 (Xinhua) -- Bloomage Biotech (Hainan) Co., Ltd., a subsidiary of Bloomage Biotechnology Corporation Limited. (Bloomage Biotech, 688363.SH), has recently reached strategic cooperation with Japanese firms ROHTO Pharmaceutical Co., Ltd. (ROHTO) and BioMimetics Sympathies (BMS), reported China Securities Journal Wednesday.
Under the partnership, the three companies will establish a joint venture with relevant parties. The joint venture will be settled in the Haikou National High-tech Zone of south China's Hainan Province, and will focus on research in regenerative medicine and cell culture medium, as well as related commercial operation.
The layout in regenerative medicine and cell culture medium will help Bloomage Biotech further enrich its key core technology matrix, and meanwhile enhance China's core technical strength in the fields, contributing to the implementation of the country's scientific and technological powerhouse strategy in biotechnology.
ROHTO Pharmaceutical Co., Ltd. mainly engages in the production and sales of pharmaceutical products, cosmetics and functional foods, etc. BioMimetics Sympathies specializes in regenerative medicine research and development.
(Edited by Zhang Yao, Gu Shanshan with Xinhua Silk Road, gushanshan.1987@163.com)