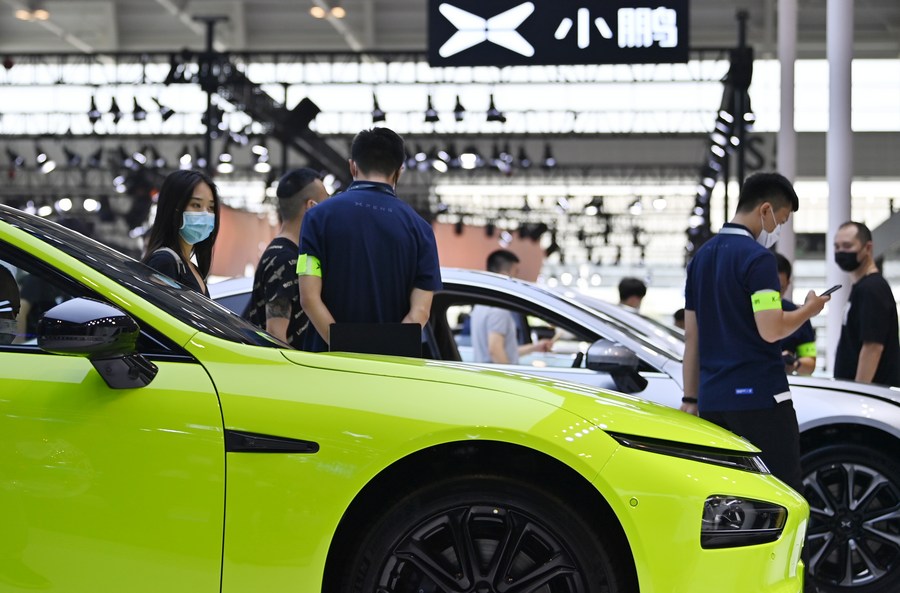 Visitors view cars from XPeng Motors during China (Tianjin) Auto Show 2021 in north China's Tianjin, Sept. 29, 2021. (Xinhua/Li Ran)
BEIJING, June 23 (Xinhua) -- Thanks to a number of pro-consumption policies, retail sales of passenger cars in China saw positive growth in early June.
According to China Passenger Car Association (CPCA), from June 1 to 12, the retail sales volume of passenger cars in China reached 519,000, a year-on-year increase of 14 percent, and a month-on-month jump of 35 percent. While the wholesale volume was 512,000, with a year-on-year increase of 14 percent, and a month-on-month surge of 44 percent.
The industry insiders attributed the outstanding performances to the favorable policies rolled out by China's authorities, adding that the policies have exerted positive effects on the market.
-- Fueling consumer enthusiasm
Pro-consumption policies are boosting the depressed auto market and fueling consumer enthusiasm. Some car stores in China told that the sales have grown significantly since the introduction of new policies in early June.
On June 16, a sales manager of a Mercedes Benz 4S store in Hangzhou said that in the last weekend, nearly 100 customers had visited the store, with over 50 ones placing orders and making payments, ramping up the store's sales greatly.
According to the latest statistics from CPCA, China's average daily retail sales of narrowly defined passenger cars reached 50,000 in the second week of June, with a year-on-year increase of 25 percent and a month-on-month jump of 54 percent. The retail market is gradually picking up.
-- Carmakers speeding up production
According to CPCA, there are positive signs of a full-scale work resumption in June, as major vehicle manufacturing cities have fully recovered their production. Carmakers are charging full speed ahead to guarantee a good output before the end of the first half of the year.
Tesla's Gigafactory in Shanghai resumed production in April and started to operate at full capacity in early June, with its upstream industrial chain basically returning to normal.
"Our supply chain and vehicle manufacturing have largely returned to normal since the beginning of June, and deliveries in several key markets, including Shanghai, are back on track. We will accelerate vehicle manufacturing and delivery, with a total expected delivery volume of 23,000 to 25,000 vehicles in the second quarter of 2022," an NIO director said.
Although the automobile industry has been greatly affected by the epidemic, the sales forecast for new car makers this year remains unchanged. It is expected that the delivery volume of NIO, XPeng Motors and Li Auto will increase by 59 percent, 78 percent and 78 percent, respectively, from the previous year, according to SPDB International, a leading financial services platform in Hong Kong.
-- Improving product capability
In order to meet the robust market demand, carmakers have sped up the improvement of product capability.
Xu Haidong, deputy chief engineer of China Association of Automobile Manufacturers, said that carmakers should focus on satisfying consumer demand and improving their product capability to cope with the fierce competition and achieve long-term development.
Intelligence is one of the major approaches to improving the product capability of automobiles. However, a higher level of intelligence requires more chips and better functions. To break the stranglehold problems of chips, a number of carmakers have focused on chip research and development and established multiple supply systems and alternative solutions.
China's FAW Group is committed to developing customized chips. "Customized automotive-grade chips have become our main task. It is a future trend for the automotive industry to work closely with chip makers," said Li Dan, vice dean of FAW Group R&D Center.
Brand upgrading is an important way for carmakers to showcase their product capability. "Compared with simply increasing production volume, brand upgrading is a better choice for improving profitability and we plan to release several new models and invest resources on high-value vehicles to increase per-vehicle value," a responsible person of Great Wall Motors said.
A large number of new products are released and the increased supply of quality products will provide consumers with more choices and expand market share. Meanwhile, more competition among enterprises will strengthen further research and innovation and boost high-quality development, said Xu Haidong.
According to a research report from CITIC Securities, 2022 will still be a boom year for new energy vehicles (NEVs), and the sales volume of NEVs is expected to reach 5.5 million this year.
(Edited by Gao Jingyan with Xinhua Silk Road, gaojingyan@xinhua.org)