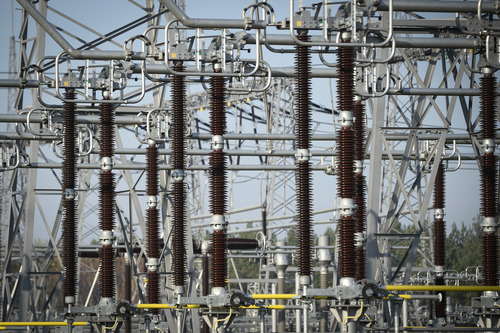 Photo taken on Nov. 8, 2018 shows the newly expanded Kozienice substation near Kozienice, Poland. The expansion and renovation work was executed by Chinese Pinggao Group Co., Ltd. (Xinhua/Jaap Arriens)
BEIJING, June 14 (Xinhua) -- China's Pinggao Group won the bid for South African Eskom 80MW/320MWh electrochemical energy storage power station EPC project Monday, with contract value of 761 million yuan, according to the company.
It is learned that the project marks the first overseas electrochemical energy storage project of Pinggao Group, as well as the largest electrochemical energy storage project in Africa in terms of capacity.
Funded by World Bank, the project is located at the Matzikama of Western Cape, South Africa. The project content includes design, supply, installation and commissioning of a new 80MW/320MWh electrochemical energy storage station and expansion work of a 132kV substation.
The project attracted over 10 competitors in the energy storage field from the United States, Spain and etc. Pinggao Group finally topped the evaluation results in both technical and commercial standards, and gained recognition from South Africa's national power company Eskom and the World Bank.
In recent years, Pinggao Group has actively participated in the Belt and Road construction and contracted a series of photovoltaic and energy storage projects in Europe, Asia, Africa and other regions.
(Edited by Bao Nuomin with Xinhua Silk Road, baonuomin@xinhua.org)