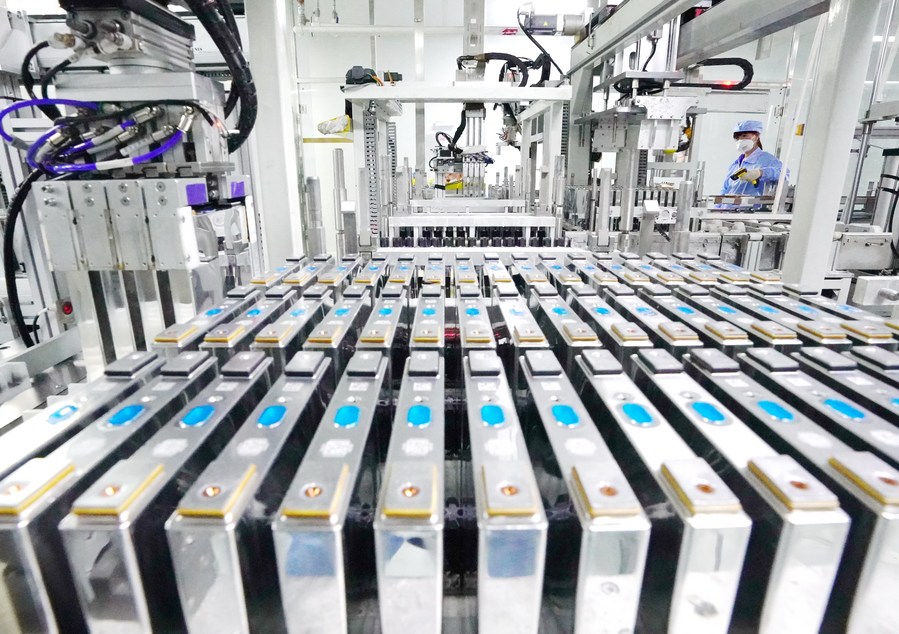 A worker operates on a production line at a lithium battery factory in Tangshan, north China's Hebei Province, Nov. 29, 2020. (Xinhua/Yang Shiyao)
BEIJING, June 1 (Xinhua) -- Shandong Yulong Gold Co., Ltd. (Yulong, 601028.SH) recently announced that its wholly-owned subsidiary Yuxin Holdings Pty Limited plans to sign a cooperation agreement with the Australia's Barto Gold Mining Pty Ltd to jointly conduct risk exploration for potential lithium ore resources, reported Shanghai Securities News on Tuesday.
With the cooperation period limited to four years and a total planned investment budget of no more than 13 million yuan (about 1.942 million U.S. dollars), this time's cooperation applies to the area where the Australian company holds mining rights.
The two sides agreed to form a project team and work together on the identification and exploration of lithium ore resources in the target area through geological survey, creating necessary conditions for further exploitation.
Over the next five years, the demand for lithium will more than double from now to reach 820,000 tons, according to market and consumer data provider Statista, indicating that lithium, as an important raw material for new energy power, will become increasingly important in the industrial chain.
As new energy and new material mining is one of the main directions of Yulong's future development strategy, the company is paying close attention to the trend of innovations in applied technology brought about by the changes in energy structure under the "dual carbon" goals, in a bid to strengthen resource integration, according to the announcement.
(Edited by Yu Huichen with Xinhua Silk Road, yhc0267@163.com)