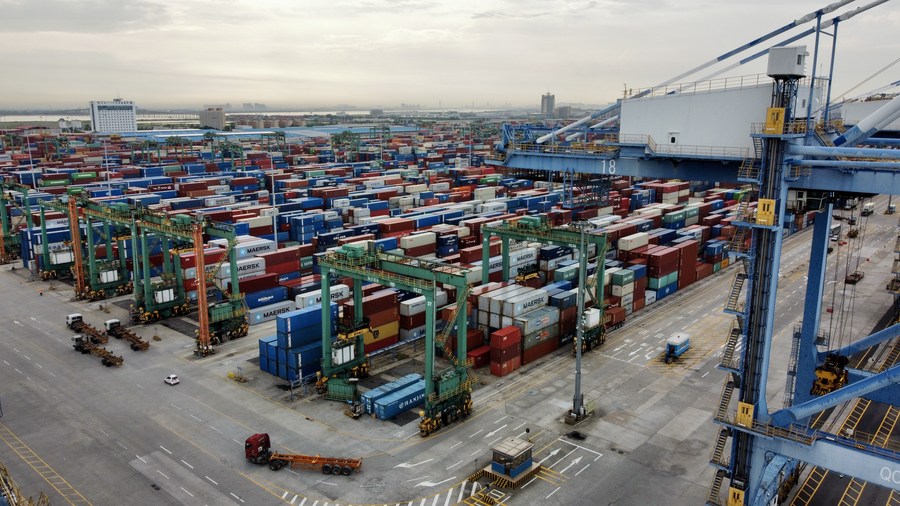 Aerial photo taken on July 17, 2021 shows the Nansha Port Area of Guangzhou Port in Guangzhou City, south China's Guangdong Province. (Xinhua/Geng Xinning)
BEIJING, May 26 (Xinhua) -- Guangzhou Port (601228.SH) on Tuesday completed the issuance of 1 billion yuan (about 148.4 million U.S. dollars) corporate bonds to professional investors at Shanghai Stock Exchange, as the first tranche of the 2022 science and technology innovation corporate bond for Belt and Road (B&R) projects, reported Shanghai Securities News.
With China International Capital Corporation Limited as the lead underwriter and bookrunner and Guotai Junan Securities Co., Ltd. as the joint underwriter, the bond pays a 2.78 percent annual coupon over a three-year term, and is 5.66 times oversubscribed.
Marking China's first batch of "B&R sci-tech innovation" corporate bonds, the issuance this time is highly innovative and exemplary. The funds raised will be used to pay the interest-bearing debts of B&R technological innovation projects, helping improve smart port construction and promote industry-wise upgrades through supply chain digitization and implementation of new technologies. It is also expected to support the Guangzhou Port area growing into an energetic transportation and global trade hub along the B&R routes.
In recent years, Guangzhou Port has been actively transforming itself into an advantageous connection point linking B&R countries and regions. So far, the port has opened more than 120 routes connecting over 40 B&R countries such as India and Malaysia.
The Shanghai Stock Exchange has also taken multiple measures to support B&R related enterprises, utilizing its functions as the nation's crucial service provider of financial infrastructure. By responding to the national innovation-driven development strategy and boosting the industrial upgrades of qualified enterprises through issuing sci-tech corporate bonds, the bourse strives to help enterprises enhance their innovation capability, competitiveness and comprehensive strength.
(Edited by Yu Huichen with Xinhua Silk Road, yhc0267@163.com)