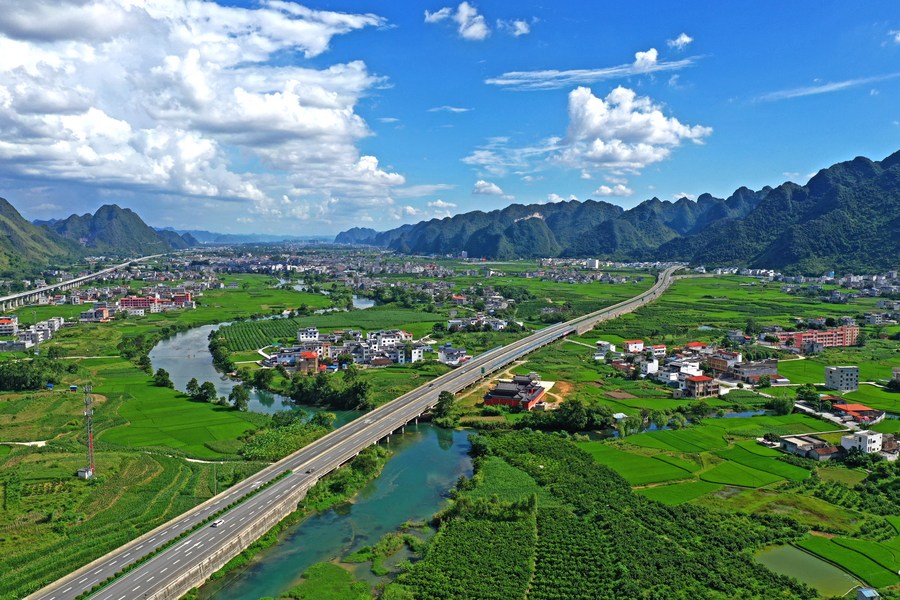 Aerial photo taken on Aug. 31, 2021 shows the countryside scenery of Gaoling Township in Du'an Yao Autonomous County, south China's Guangxi Zhuang Autonomous Region. (Xinhua/Zhou Hua)
BEIJING, May 26 (Xinhua) -- China has recently rolled out an action plan on rural construction to facilitate the country's rural vitalization, which analysts believe will bring more opportunities to financial institutions.
-- Financial institutions support agricultural business
As the only agricultural policy bank in China, the Agricultural Development Bank of China (ADBC) actively supports financial services related to the agriculture. For example, given the wheat growth status and enterprises' credit fund demand, ADBC Henan Branch timely compiled differentiated credit service policies to release credit funds. Since the beginning of 2022, the branch has allocated 9 billion yuan of credit funds for spring ploughing.
In addition to the policy bank, the commercial banks, like the Agricultural Bank of China (ABC), also join the campaign to advance the rural vitalization.
"The ABC actively responds to the strategy of comprehensively promoting rural vitalization, and gives full play to its advantages in channels, capital, products and technology, and is playing a leading role in providing financial services for rural vitalization," said Gu Shu, chairman of ABC.
In the areas such as Jilin, Hebei, Shaanxi and Shandong where were affected by the epidemic, ABC extended loans of 65 billion yuan online to farmers in the first quarter.
-- Rural vitalization stimulates financial innovation
While supporting the agricultural business by preferential policies, the financial institutions are also making efforts to innovate financial service.
For example, to hedge price risk, the country encourages the financial institutions to roll out innovative products, such as the insurance plus futures model which now is enjoying popularity nationwide.
It is learned that by the end of 2021, 21 branches of China Insurance, an insurance company in China, had launched 319 insurance plus futures programs, involving more than 10 kinds of agricultural products, including pigs, corn and cotton.
With the improvement in such products, the scope of agricultural insurance is constantly expanding.
Data showed that in 2021, China Continent Insurance carried out agricultural insurance business in 29 provinces, providing risk protection of over 40 billion yuan.
As of now, the company has developed over 400 innovative products, covering special agricultural products insurance, weather index insurance, price index insurance, and other sectors.
-- Foreign financial institutions also eyeing rural vitalization
In addition to the homegrown financial institutions, the foreign-invested financial institutions also showed their interests in participating in China's rural and agricultural markets.
South Korean NongHyup Bank, a subsidiary of NongHyup Financial Group which engaged in providing specialized agricultural and commercial credit and banking services, has received approval files of its Beijing branch, announced China Banking and Insurance Regulatory Commission recently. The move shows the bank's willingness of strengthening cooperation in agricultural areas between China and the Republic of Korea (ROK).
With the exception of agricultural-specialized banks, foreign-funded commercial banks such as Hang Seng Bank Limited also contribute their wisdom to China's rural vitalization.
In 2021, Hang Seng Bank launched a rural talents cultivation plan, aiming to provide long-term and stable talent support for rural vitalization and improve the grassroots governance capacity of rural villages.
It is learned that Hang Seng Bank has always regarded ESG, green development, and sustainable development as corporate culture, and is committed towards rural vitalization in public welfare investment, noted Zhu Jin, vice president of Hang Seng Bank (China) Limited in Annual Conference of Financial Street Forum 2021.
(Edited by Bao Nuomin with Xinhua Silk Road, baonuomin@xinhua.org)