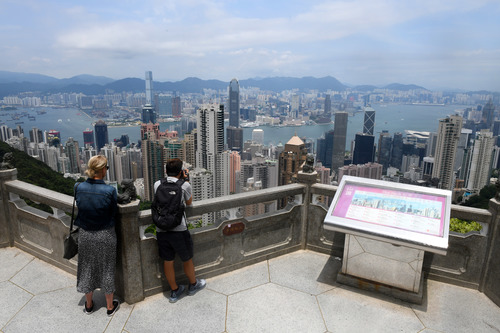 Tourists visit the Peak Hong Kong scenic spot in south China's Hong Kong, Aug. 20, 2019. (Xinhua/Lu Hanxin)
BEIJING, May 24 (Xinhua) -- New Horizon Health Limited (06606.HK) and Nasdaq-listed Prenetics Group Limited on Monday announced a strategic partnership to promote ColoClear by Circle (ColoClear) and launch ColoClear in China's Hong Kong market.
The two sides will jointly promote ColoClear, a proprietary non-invasive stool-based FIT-DNA test for colorectal cancer screening independently developed by New Horizon Health, in the markets of China's Hong Kong, Macau and Taiwan, with future option of an expanded partnership for Southeast Asian markets, according to the agreement.
ColoClear's official launch date for the Hong Kong market is currently set for June 8, 2022.
It is noted that Prenetics will have the exclusive rights to provide ColoClear laboratory testing service and the profits from the sales of ColoClear will be shared 50/50 between New Horizon Health and Prenetics, according to the terms of the agreement.
New Horizon Health, founded in 2015, is a Chinese biotechnology company focusing on early cancer screening. The company went listed on Hong Kong stock exchange in February 2021.
Prenetics is a Hong Kong-based biotech company which went floated on Nasdaq on May 18, 2022 through a merger with Artisan Acquisitio Corp. (Edited by Zhong Xinpei, Niu Huizhe with Xinhua Silk Road, niuhuizhe@xinhua.org)