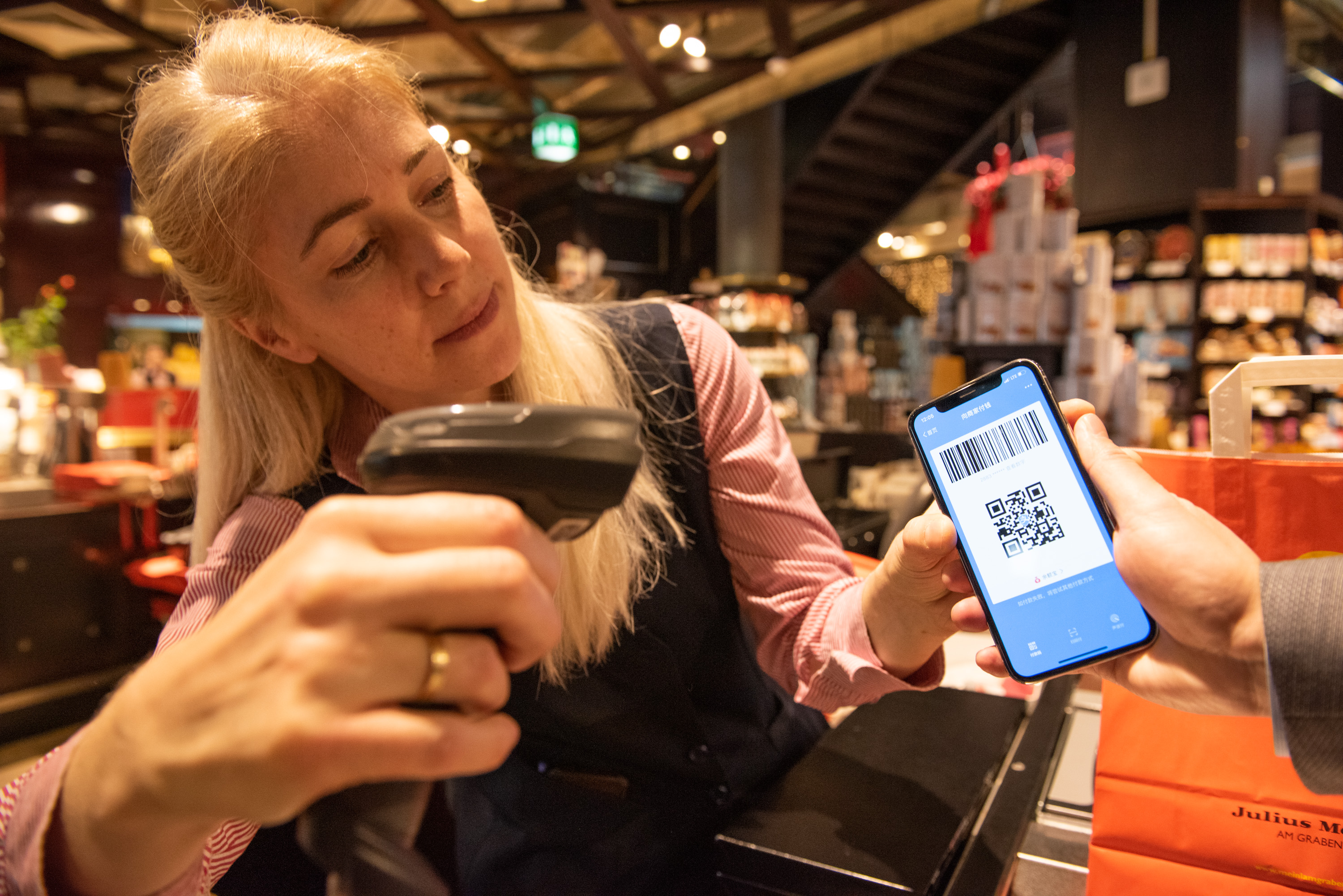 A staff member scans a QR code from a customer's Alipay app at Julius Meinl, a coffee shop in Vienna, Austria, on Jan. 9, 2020. (Xinhua/Guo Chen)
BEIJING, May 18 (Xinhua) -- The International Monetary Fund (IMF) announced an increase in the weighting of the Chinese renminbi (RMB) in the Special Drawing Rights (SDR) currency basket after completing a quinquennial review, which shows a high recognition and a seal of approval from the world-class financial institution towards China, said Hsia Hua Sheng, associate professor of international finance at the Getulio Vargas Foundation (FGV), the largest think tank in South America.
Hsia told Xinhua that IMF's move represents a seal of approval for China's socio-economic progress made in recent years, a high recognition of China's determination and efforts in financial regulation, law reform and market opening-up, and a vote of confidence in the country's strength to boost international trade and maintain growth.
Speaking of the reasons why RMB has gained global recognition and increasing use in international payment, Hsia noted that China has been committed over many years to in-depth research and unswerving reform in the economic and financial sector, making it capable of fending off the worst of shocks and keeping a long-term sustainability in its financial and monetary market.
Meanwhile, forging closer ties between China and its trade partners, China-proposed Belt and Road Initiative (BRI) has also greatly contributed to RMB internationalization, according to Hsia.
The internationalization of RMB really matters to Brazil, as China is the top trading partner of the largest economy in Latin America. The latest Brazilian International Reserves Management Report, which describes the evolution of Brazil's international reserves, released by the Central Bank of Brazil showed that in 2021, the share of RMB increased to 4.99 percent from 1.21 percent a year ago, marking a record high since its entrance into the basket in 2019.
Noting that the internationalization of RMB could cut the cost of currency exchange with U.S. dollar as an intermediary, Hsia said it is conducive to agricultural enterprises in both countries. Nonetheless, Hsia added that it is still a long-term goal, as the use of RMB should expand beyond goods to production cost and debt, with an aim to increase presence of the currency in Brazil-China trade.
Going forward, Hsia expressed his confidence in the prospect of RMB internationalization. "As a leader in global trade, China has shown great willingness to participate in global economic affairs despite dented globalization and rising regionalization trends, which is conducive to wider use of RMB," said Hsia.
With reference to the possible challenges facing RMB internationalization, including uncertainties in the international arena and risks brought by rising regionalization, price hikes, and global inflation, Hsia said the RMB internationalization rests on the reform and opening-up of China's financial market and monetary system.
In this regard, Hsia advised that China could attract more global investors through accelerated and deepened financial reform, opening-up of financial derivatives market and more issuance of RMB-denominated government bonds.
(Contributed by Bian Zhuodan, Luo Jingjing in Brazil, edited by Li Shimeng with Xinhua Silk Road, lishimeng@xinhua.org)