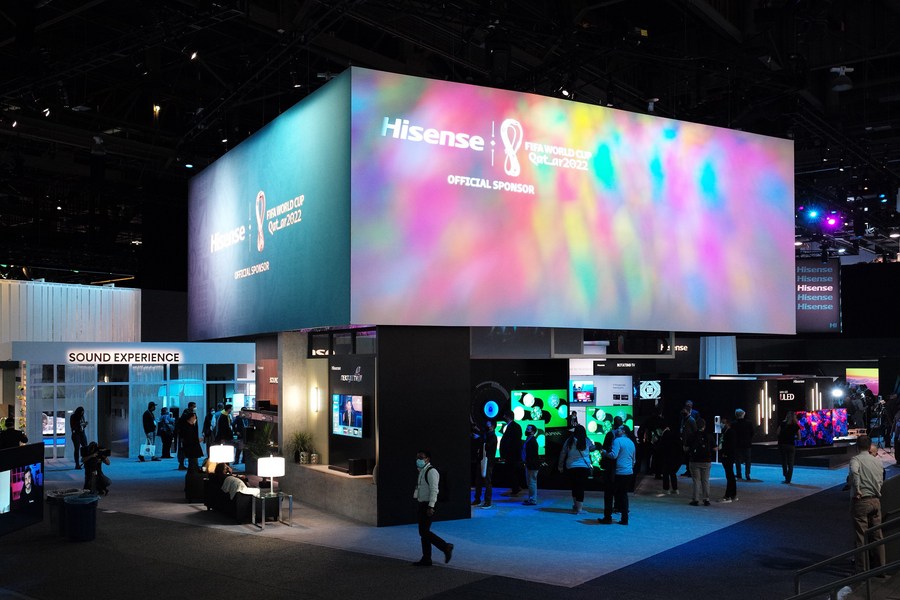 Visitors tour the Hisense exhibition area at the 2022 Consumer Electronics Show (CES) in Las Vegas, the United States, Jan. 5, 2022. (Xinhua/Wu Xiaoling)
BEIJING, May 16 (Xinhua) -- Chinese consumer electronics and appliance manufacturer Hisense on May 14 released the customized air conditioner product, Hisense fresh air air conditioner X620, for the FIFA World Cup Qatar 2022, reported Shanghai Securities News Sunday.
Hisense fresh air air conditioner X620 can refresh the indoor air more quickly through large air volume circulation with upgraded air outlet which is increased by 24.8 percent in length and boasts an air output of 1550 cubic meters per hour.
In 2022, Hisense fresh air air conditioner became the first product that obtained the certification of fresh air oxygenation health air conditioner issued by China Household Electric Appliance Research Institute (CHEARI).
Equipped with micro-positive pressure double-drive fresh air system, Hisense fresh air air conditioner can transport the filtered fresh air into the room while cooling or heating, and reduce indoor carbon dioxide, bacterial concentrations and the risk of viral infection, thereby creating an oxygen-rich indoor environment with clean air.
Since 2021, great efforts have been made to build Hisense air conditioner into an international brand. The brand had shown up in the UEFA European Football Championship in 2021, and in 2022 it becomes an official sponsor of the FIFA World Cup Qatar 2022.
According to Hisense Home Appliances, Hisense air conditioner relies on the sponsorship of world-class sports events to improve its brand influence and build an international brand.
(Edited by Zhang Yao, Gu Shanshan with Xinhua Silk Road, gushanshan.1987@163.com)