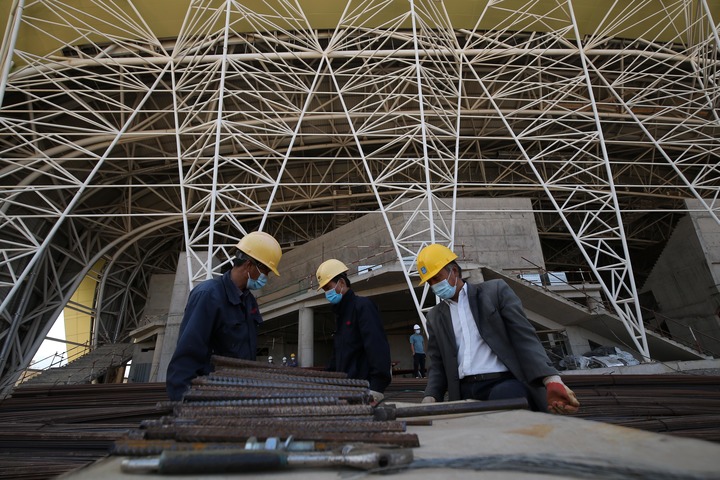 Photo taken on Oct. 4, 2021 shows workers working at construction site of the Oran Multifunctional Sports Center.(Xinhua)
BEIJING, May 13 (Xinhua) -- Constructed by China Metallurgical 22nd Group Corporation (MCC22 Group), the Oran Multifunctional Sports Center natatorium outdoor and indoor swimming pool went through acceptance by Algerian officials and experts on April 18 and May 9 respectively, which marks the natatorium is qualified for international competitions, reported Chinanews.com citing statement from the company on Thursday.
The natatorium covers an overall construction area of 17,000 square meters, with one indoor and one outdoor standard competition pool and one indoor training pool. The swimming pools adopt the combined structure of concrete bottom and stainless steel wall, and the MCC22 Group takes charge of the concrete construction, wall installation, PVC welding work and etc., said Zhang Leyu, manager of the project.
Through automatic circulating disinfection, filtration and heating, water quality of the swimming pool is ensured and water temperature is maintained within 25 to 28 degree, which fully meets the international competition standards, added Zhang.
It is learned that on June 25, 2022, the 19th Mediterranean Games will open in Oran of Algeria, and the newly completed natatorium will serve as the official swimming competition venue at that time.
(Edited by Bao Nuomin with Xinhua Silk Road, baonuomin@xinhua.org )