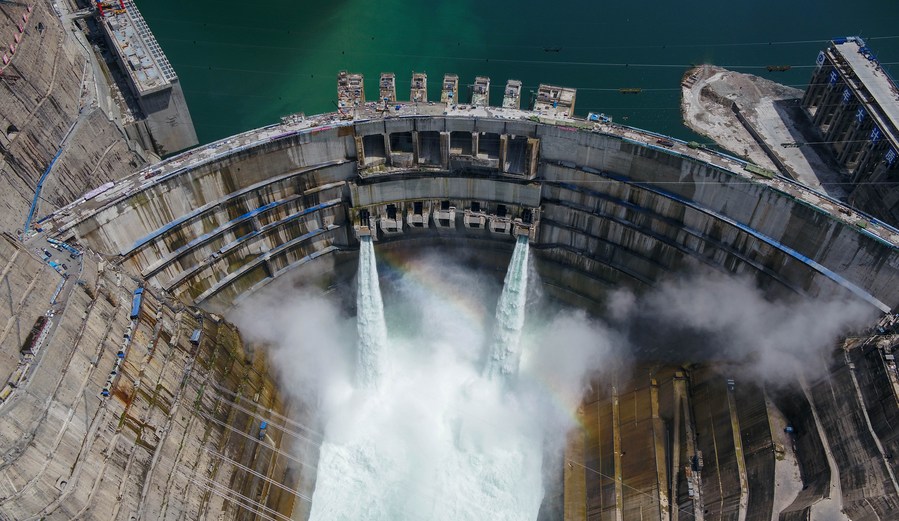 Aerial photo taken on June 10, 2021 shows Baihetan hydropower station in southwest China. (Xinhua/Xu Bingjie)
BEIJING, May 13 (Xinhua) -- German chemical giant BASF on Tuesday signed a 25-year fixed-price renewable energy power procurement agreement with Brookfield, an alternative asset manager, under the renewable energy trading rules of south China's Guangdong Province, reported Securities Daily Wednesday.
According to the agreement, Brookfield will build exclusive photovoltaic power plants and wind farms and develop possible energy storage solutions for BASF to supply its new integrated base in Zhanjiang City of Guangdong with renewable energy power at a fixed price for 25 years.
This is the first fixed price long-term transaction in China's renewable energy power trading market.
BASF is committed to building the Zhanjiang integrated base into a model of sustainable production, and it aims to provide 100 percent renewable energy power for the entire base by 2025, said Lin Hanping, senior vice president of BASF and head of the company's Zhanjiang integrated base.
This is an important step for BASF to achieve the goal of climate neutrality and also contributes to China's carbon reduction goal, added Lin.
In this transaction, the two parties adopt the Levelized Cost of Energy (LCOE1) standard for the first time to price the renewable energy projects under development and construction, opening up a precedent in the field of green power trading in China.
The BASF Zhanjiang integrated base project was announced in July 2018 and officially launched in November 2019. It will be built and operated by BASF independently.
After completion, it will become BASF's largest investment project to date, with a total investment of about 8 billion to 10 billion euros. It will also become BASF's third largest integrated production base in the world.
The entire integrated base is planned to be completed in 2030, and the first production unit will be put into operation in 2022.
(Edited by Zhang Yao, Gu Shanshan with Xinhua Silk Road, gushanshan.1987@163.com)