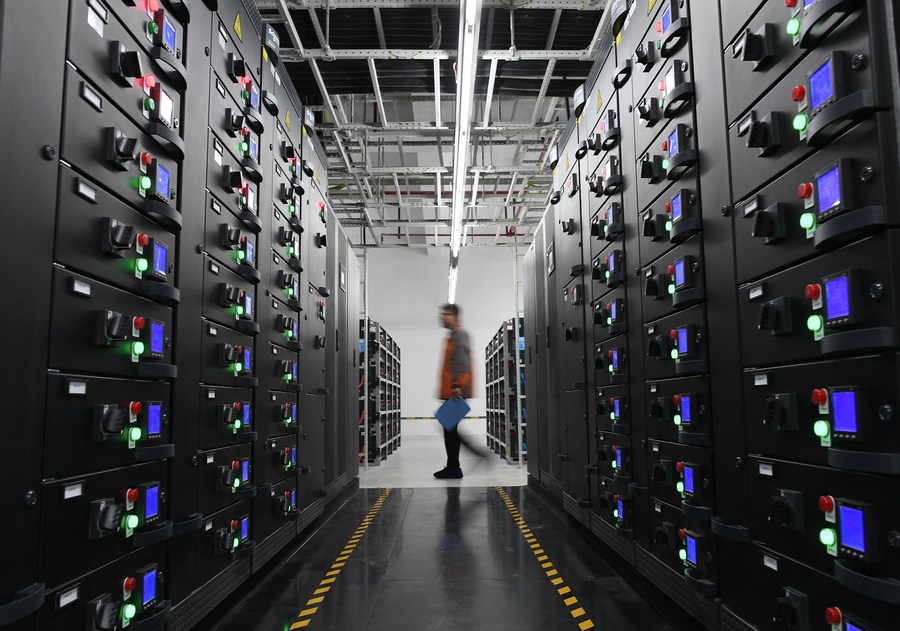 A worker maintains equipment at China Mobile's data center in a cloud computing base in Zhongwei City, northwest China's Ningxia Hui Autonomous Region, May 31, 2019. (Xinhua/Wang Peng)
BEIJING, May 12 (Xinhua) -- Chinese tech firm EdgeRay has recently launched its cloud computing data center in Johor, Malaysia to provide services globally, reported Shanghai Securities News Tuesday.
EdgeRay is a wholly-owned subsidiary of Wangsu Science and Technology Co., Ltd. (300017.SZ), a leading company in cloud distribution and edge computing. It has launched data centers in the United States, the Republic of Korea, Singapore and Hong Kong before.
The data center in Malaysia is in line with the international data center standard Tier3, and has obtained many other data-related certifications.
In the future, EdgeRay's data center in Malaysia will work with its data centers in Singapore and Hong Kong to provide enterprises with reliable and efficient cloud computing services for business expansion in Southeast Asia.
In recent years, the internet market in Southeast Asia has developed rapidly. According to a report on Southeast Asia's digital economy in 2021 jointly released by Temasek, Google and Bain & Company, the number of internet users in Indonesia, Malaysia, the Philippines, Singapore, Thailand, and Vietnam has totaled 440 million, with an increase of 40 million, and the internet penetration rate in these countries has increased to 75 percent.
As consumer behavior and business models continue to go digital, investors' confidence has increased, and the internet economy in Southeast Asia is expected to reach 1 trillion U.S. dollars by 2030.
The increase in internet penetration and the rapid development of related industries have promoted the continuous increase in demand for cloud services. The international research and advisory company Gartner predicts that the cloud computing market in Southeast Asia may reach 40.32 billion U.S. dollars by 2025.
EdgeRay will continue to increase cloud service infrastructure input in Southeast Asia, with the aim to contribute to local enterprises' digital transformation and help Chinese enterprises to go global, noted Li Dong, CEO of EdgeRay.
(Edited by Zhang Yao, Gu Shanshan with Xinhua Silk Road, gushanshan.1987@163.com)