BEIJING, May 11 (Xinhua) -- Bilateral trade between China and the European Union (EU) rose 6.8 percent year on year to reach 1.73 trillion yuan in the first four months of this year, accounting for 13.8 percent of China's foreign trade during the period, according to the General Administration of Customs.
Economic and trade cooperation between EU and China has proved to be astoundingly resilient and vigorous despite the negative consequences of the pandemic. Going forward, closer and greener trade cooperation will benefit both sides and the overall recovery of the world economy.
-- Closer ties between complementary partners
Sound foundations have been laid for the resilience and vigor of China-EU trade, said Zhang Jianping with the research institute of China's Ministry of Commerce (MOC).
To start with, bilateral trade cooperation between China and EU plays an important role in global stability, according to Zhang. Over four decades since China's reform and opening-up, the two sides have strengthened cooperation in trade and investment and intensified coordination and integration of global supply chain and value chain.
In addition, the two economies are complementary in terms of economic structure and developing stage, which will have larger potential for further growth of bilateral trade and investment. The European Union has well developed service industry and high-tech industry. China, however, is still endeavouring to advance its industrialization, with complete industrial system and various industrial categories, making it excel in the manufacturing industry, said Zhang.
Besides, China and EU have made strides in establishing cooperation mechanisms through high-level exchanges, such as China-EU investment pact and China-EU geographical indication (GI) agreement.
The ratification of the bilateral investment treaty is a common concern of the two sides. It is learned that China and EU have both been working on technical work, such as legal review, to prepare for the ratification and implementation of the treaty, since they completed negotiations in late 2020.
Regarding the China-EU agreement on the protection of GIs, for the record, it formally entered into force on March 1 last year. According to the agreement, 100 GIs from each side, involving liquor, tea, food and farm produce, came under protection on the same day. The second GI list, consisting of 175 GIs from each side, is set to go through protection procedures within the next four years.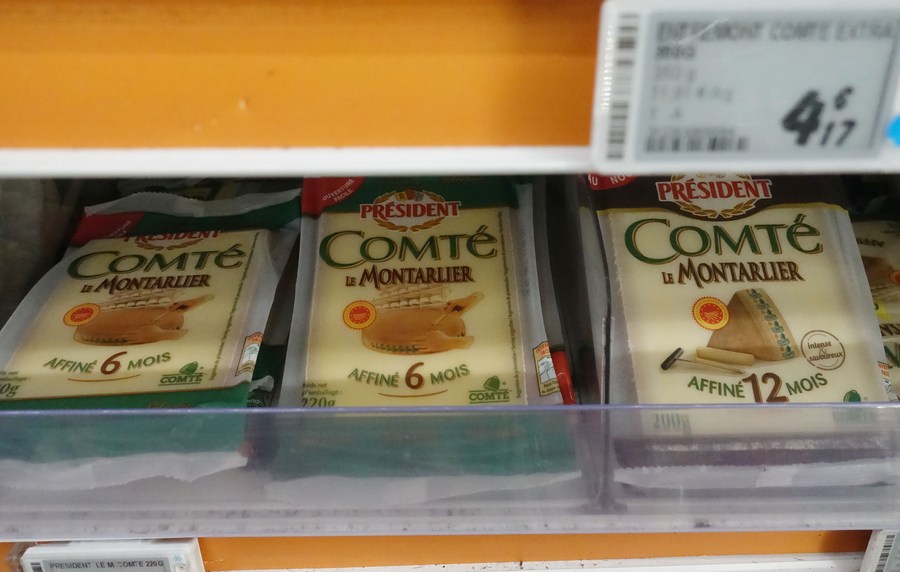 Photo taken on May. 21, 2021 shows French comte cheese, which is one of the first batch of protected EU geographical indications under the agreement of China-EU Geographical Indications. (Xinhua/Gao Jing)
The landmark agreement on GIs between the two sides for the first time protects and guarantees the authenticity of GIs on a large scale.
It has started to benefit both sides since it came into effect. Data showed that in the first quarter of this year, China-EU trade in tea, beer, apple, and cheese and milk has surged 54 percent, 21 percent, 69 percent, and 56 percent on year, respectively.
-- Common commitments on carbon-neutrality
Green development has become common sense of international community. China and EU have great potential and ample space in collaborations of low-carbon development and green energy, Zhang stressed.
He said, the Europe has been a pioneer of global green development and plays a leading role in sustainable production, consumption and trade. The EU unveiled its European Green Deal in 2019 and the bloc aims at reaching carbon neutrality by 2050.
Meanwhile, China has committed itself to peak its carbon emissions before 2030 and becoming carbon neutral by 2060 and rolled out a slew of measures towards the two goals.
While China is delivering on its promise of carbon neutrality, the country is synergizing its development strategy with that of the EU to generate new driving forces in closer partnership.
For example, China's Shanghai Electric Power Company is putting its expertise in wind, solar and hydrogen power into use on Malta's Gozo Island, which it aims to turn into the EU's first carbon-neutral island. The company is also involved in other green power projects in Malta and Montenegro.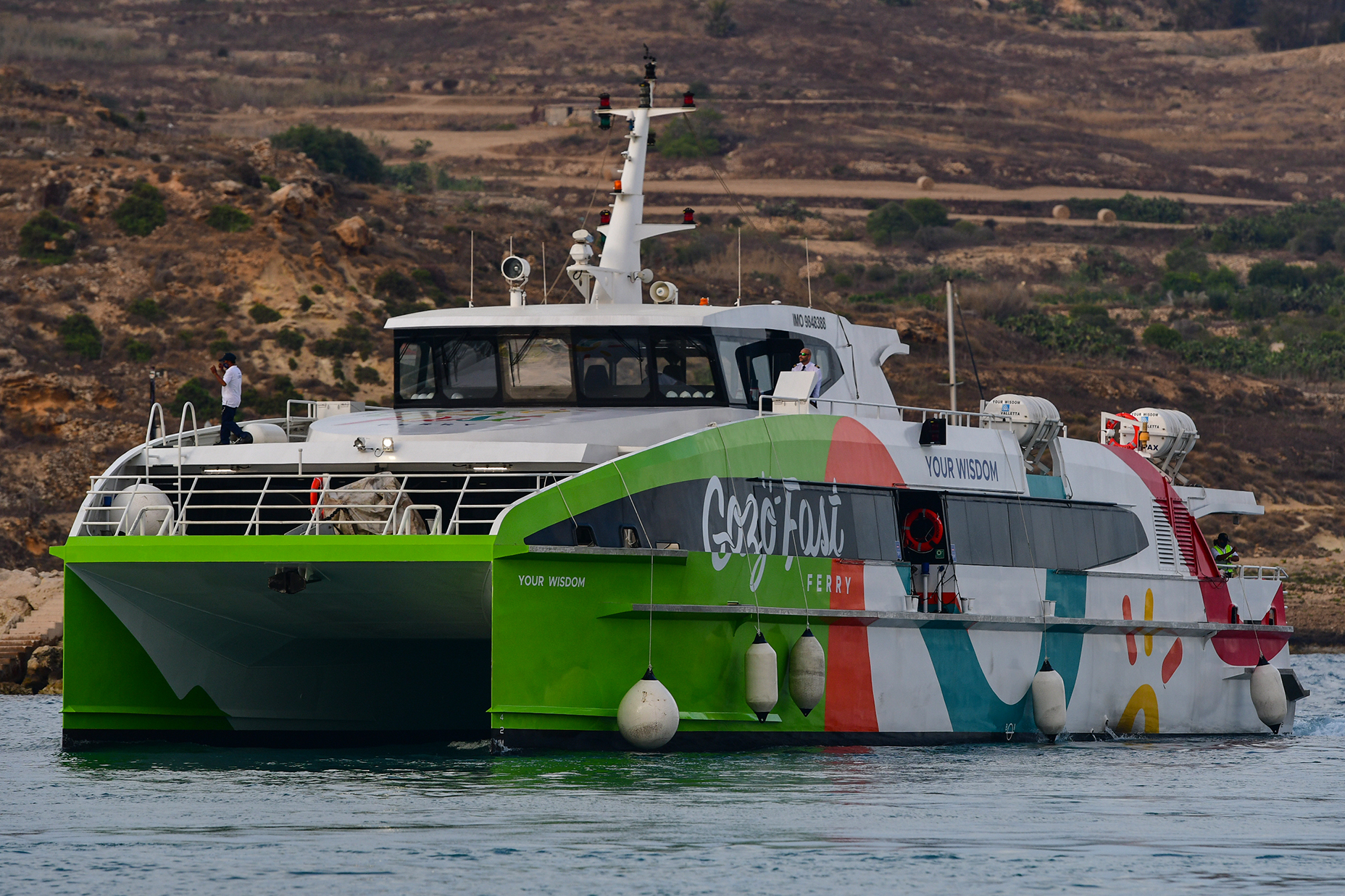 Photo taken on June 1, 2021 shows Your Wisdom, one of the two catamarans providing fast ferry service between Valletta and Gozo, arrive in Mgarr harbor of Gozo, Malta. (Photo by Jonathan Borg/Xinhua)
Malta is not the only European country that is working with China to generate green power. Wind farm projects in Italy and Croatia have also proved how the tie-up of Chinese renewable technology and Europe's ambitious green targets can make a difference.
Zhang said that the EU may be determined to accelerate use of renewable energy due to the current energy crisis, which will greatly improve the partnerships in solar power and wind power between China and EU.
(Edited by Li Shimeng with Xinhua Silk Road, lishimeng@xinhua.org)