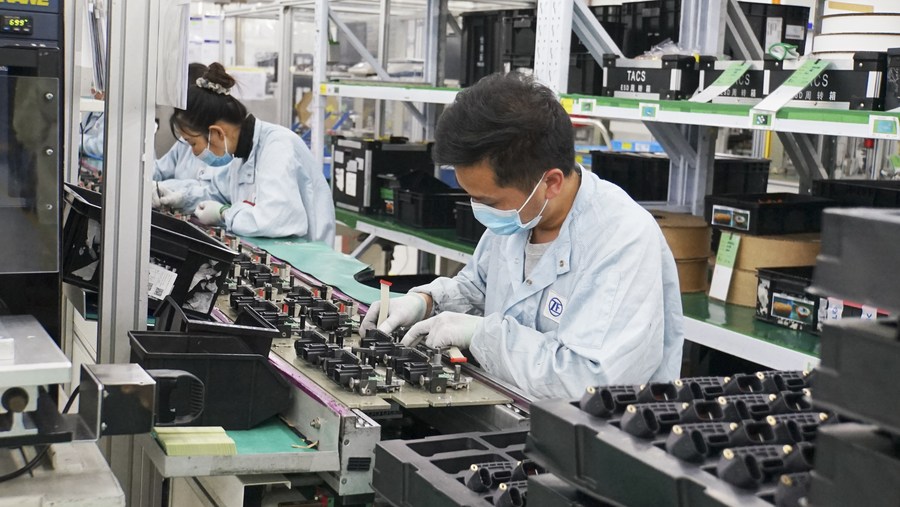 Employees of an auto parts company work at a workshop in Anting Town of Jiading District, east China's Shanghai, March 26, 2022. (Xinhua/Wang Shujuan)
BEIJING, May 7 (Xinhua) -- Chinese automotive components supplier Nanjing Chervon Auto Precision Technology Co., Ltd. (Chervon Auto, 603982.SH) announced on Friday that its European subsidiary will invest another 60 million euros (about 63.24 million U.S. dollars) to the second phase of its car parts plant project in Miskolc, Hungary, reported stcn.com.
The subsidiary, Chervon Auto Precision Technology (Europe) Ltd., has obtained relevant certificates of land ownership, environmental assessment and construction permission. Other works including equipment inquiry and procurement, as well as staff recruitment and training are also being carried out in an orderly manner.
It is said that the project is planned to cover a total area of 30,000 square meters, of which the second phase should take up a half. The first phase of the project was launched in October 2020 and is currently under construction.
Focusing on production and sales of new energy auto parts, the project is expected to add an additional annual production capacity of 1.35 million pieces upon completion.

The new energy vehicle (NEV) market of Europe is witnessing rapid growth, according to Chervon Auto, noting that from January to September 2021, the company's revenue of NEV auto parts from Europe accounted for 36.34 percent of the total income of the field.
Setting up this new plant in Europe should therefore significantly enhance the company's serving capacity to European clients with shortened terms of delivery and lowered logistic costs, expanding the company's global network.
(Edited by Yu Huichen with Xinhua Silk Road, yhc0267@163.com)