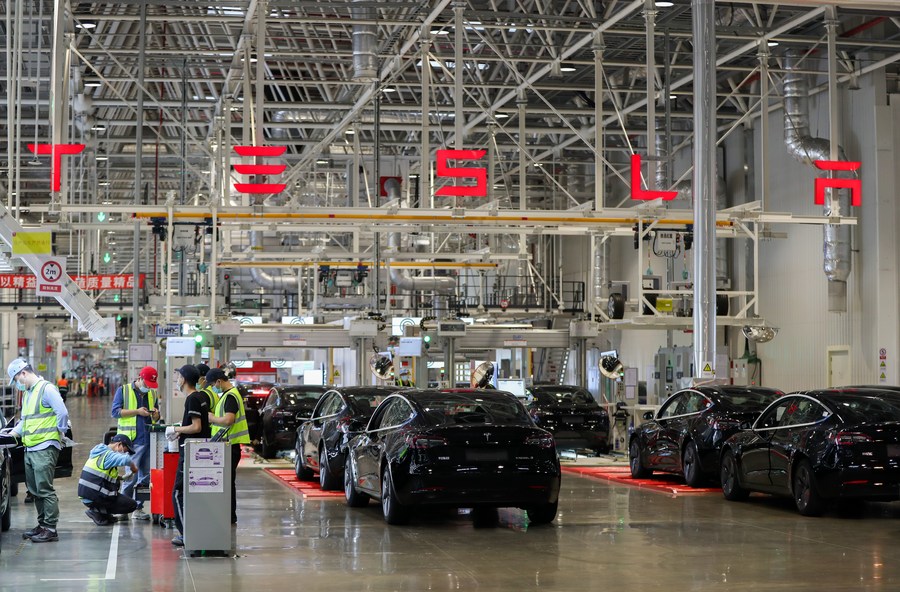 Employees work at the Tesla Gigafactory in Shanghai, east China, Nov. 20, 2020. (Xinhua/Ding Ting)
BEIJING, April 29 (Xinhua) -- The registration of a competition focusing on power battery integration and management technology has started recently, reported Shanghai Securities News Wednesday quoting Tesla China.
The competition will be jointly hosted by Tesla China, the China Society of Automotive Engineers and the People's Government of Yibin City.
It will be held during the 2022 World Power Battery Congress, a event that was approved by the State Council and will be hosted by the Ministry of Industry and Information Technology and the People's Government of Sichuan Province in July this year.
The Congress is expected to greatly promote the development of the power battery industry.
According to Tesla China, this above-mentioned competition is open to participants from universities, research institutes and innovation teams across the country.
The competition, divided into preliminary, semi-final and final, will last about two months. Contestants from different universities have to complete the design of the battery pack with Tesla 2170 cells provided by the organizer in a short time.
The review committee will be composed of ten well-known experts in the field of automobiles and power batteries. In the final round, six technical experts from Tesla will be invited to form a technical guidance team to provide technical advice for the participating teams.
(Edited by Zhang Yao, Gu Shanshan with Xinhua Silk Road, gushanshan.1987@163.com)