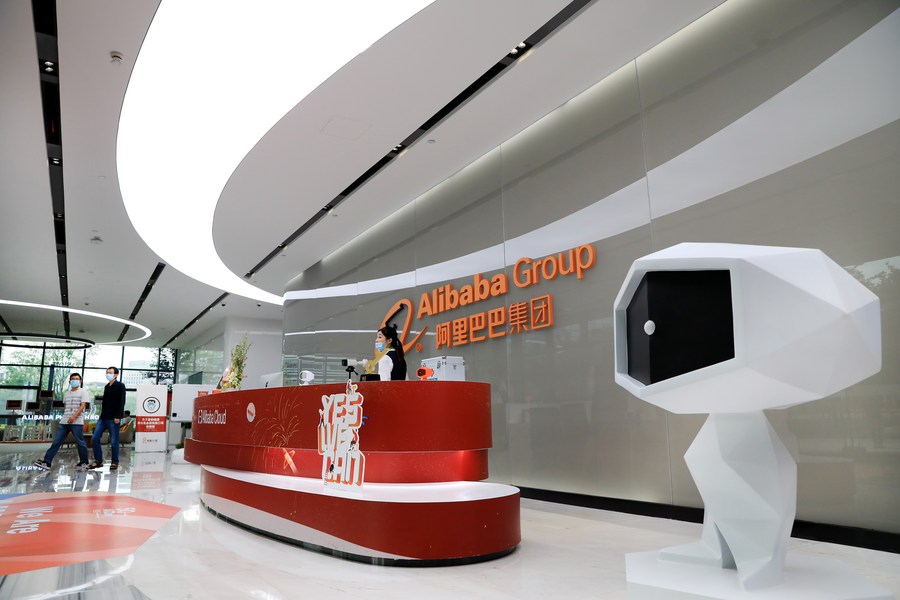 Photo taken on July 3, 2020 shows the view of the R&D center of Alibaba in Shanghai. (Xinhua/Fang Zhe)

BEIJING, April 24 (Xinhua) -- China's e-commerce giant Alibaba Group will share nine low-carbon data center technology patents for free to domestic and foreign enterprises, aiming at accelerating adoption of green technologies in the data center industry and fostering international innovation, the company announced on Friday.
The move is part of Alibaba's commitment after it joined the the Low Carbon Patent Pledge (LCPP), an international platform that encourages the sharing of patents on low carbon technologies.

The nine patents offered by Alibaba include a unique"soaking server" cooling system Alibaba Cloud, the digital technology and intelligence backbone of Alibaba, has deployed at its data centers since 2015. This non-mechanical cooling measure could lead to energy savings of over 70 percent compared to traditional mechanical cooling, according to Alibaba.
The joining of Alibaba will strengthen the LCPP and reflects the reality that all sectors can contribute to an accelerated transition toward low-carbon energy development, noted Jorge L. Contreras, an American scholar and attorney who teaches and researches in the areas of intellectual property and property law.

Alibaba vows to become carbon neutral by 2030. In keeping with the ambition, Alibaba Cloud will work to have its global data centers running entirely on clean energy by 2030, starting with upgrading five of its hyper-scale data centers in China. (Edited by Su Dan with Xinhua Silk Road, sudan@xinhua.org)