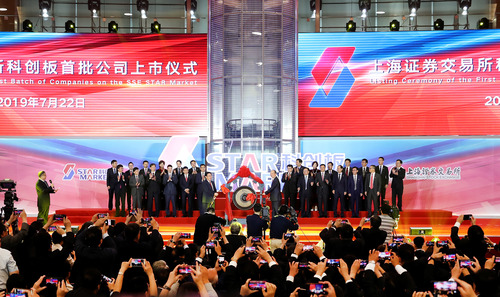 Photo taken on July 22, 2019 shows the debut ceremony of China's sci-tech innovation board (STAR market) at the Shanghai Stock Exchange in Shanghai, east China. China's sci-tech innovation board (STAR market) started trading on the Shanghai Stock Exchange Monday morning, with the first batch of 25 companies debuting on the board. (Xinhua/Fang Zhe)
BEIJING, April 14 (Xinhua) -- Investors' confidence has been boosted due to the great progress made in the high-quality development of China's listed firms thanks to the country's supportive methods.
-- Booming business
Boasting 4,782 listed companies with total market capitalization of 80.7 trillion yuan (about 12.68 trillion U.S. dollars) by the end of March, China has the second highest number of publicly listed companies across the world.
Despite a weak global recovery hobbled by the protracted pandemic, China's listed companies have shown great resilience this year. As of April 11, a total of 1,451 companies listed on the Shanghai Stock Exchange and Shenzhen Stock Exchange have disclosed their annual reports of 2021, recording total revenue of 45.13 trillion yuan, up 20.03 percent year-on-year. These companies made 4.36 trillion yuan net profit for parent enterprises, up 21.03 percent year-on-year.
Apart from achievements in profitability, listed companies have seen steady improvements in overall performance, such as optimized structure, increased R&D investment and standardized corporate governance.
Innovation has injected impetus to the high-quality development of listed companies. R&D investment by listed companies accounted for more than half of the total R&D investment by all enterprises in the country. Their efforts paid off with a 74 percent surge of patent number.
Corporate governance of listed companies has also improved, which helps enterprises to defuse risks.
The share of innovative companies has grown rapidly. The number of companies listed on the Science and Technology Innovation Board or the STAR Market and on the second board or ChiNext has exceeded 400 and 1,100, respectively. Over 2,200 companies in strategic emerging industries have traded on China's A-share market. Meanwhile, the market capitalization of high-tech industries, such as bio-medicine and new generation of information technology, has accounted for 31.8 percent, compared with 22.2 percent in 2019.
"As China embarks on the track of high-quality development, it is reasonable to see improved quality of listed firms, better profitability of non-financial companies, and more technological firms on the A-share market, " said Li Qiusuo, managing director of research department at China International Capital Corporation Limited (CICC).
-- Empowering Environment
Despite daunting challenges posed by weak global industrial chain, sluggish recovery and rising inflation figures across the world, China has endeavored to facilitate the high-quality development of listed firms by providing an empowering environment.
On the one hand, the country's regulators have sought advancement in reform, opening-up and support for the high-quality development of listed firms. For example, three regulatory departments jointly issued a circular on Monday, urging a level playing field for all market entities, fee exemptions and reductions and long-term investment mechanism for institutional investors.
On the other hand, the country's local governments have also put a slew of supportive arrangements, such as better business environment, support for key industries, and tax cut, to empower high-quality development of listed firms.
Stable capital market is also a major pillar for high-quality development of listed companies. China has pledged to develop a well-regulated, transparent, open, vibrant and resilient capital market, with strong determination in deepening reforms and high-quality opening-up.
"Generally speaking, there are enormous opportunities in the high-quality development of listed companies," said Li, noting that new business mode, residential investment and more professional financial institutions will accelerate their development.
-- Consolidated confidence
Yi Huiman, chairman of the China Securities Regulatory Commission (CSRC), said at a conference on April 9 that China's capital market has an increasing attractiveness for investors, at home and abroad, citing the data of over 200 million investors in China's securities market.
Although there have been ups and downs in China's A-share market, as Chinese media has put it, China's timely policy support has soothed the market and left investors reassured.
International financial institutions spoke highly of the outlook of China's capital market.
According to Citibank, when the mounting external uncertainties and epidemic resurgence imposed pressure on China's economic growth, the country's positive policy arrangements are conducive to restoring investors' confidence towards the market. The institution gave a vote of confidence to China's stock market concerning its future performance.
Goldman Sachs macroeconomics research team is also optimistic about rising investments on renminbi assets from global investors, citing facts of huge growth potential and risk hedging characteristics of China's national treasury bond.
(Edited by Li Shimeng with Xinhua Silk Road, lishimeng@xinhua.org)