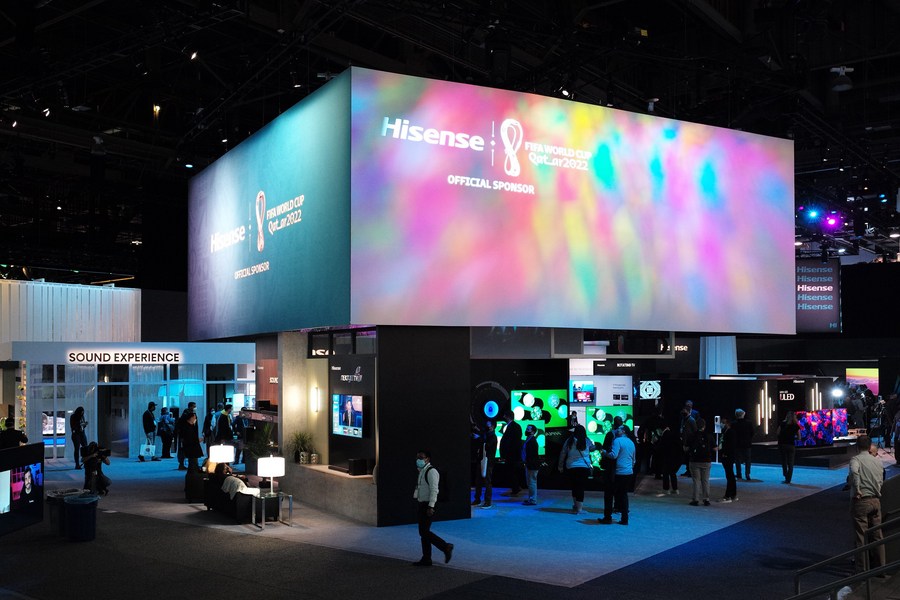 Visitors tour the Hisense exhibition area at the 2022 Consumer Electronics Show (CES) in Las Vegas, the United States, Jan. 5, 2022. (Xinhua/Wu Xiaoling)
BEIJING, April 12 (Xinhua) -- China's home appliance manufacturer Hisense Group formally kicked off its production in Indonesia, as an official ceremony was held on April 7 to mark the start of operation for its production base in Jakarta, Indonesia.
The production base, known as the PT.GAS factory, is a colour television (TV) production base with the most advanced technology in Indonesia. With advanced assembly line of liquid crystal display (LCD) module and colour TV, the factory could manufacture up to 600,000 sets of colour TV.
The 32 inch to 75 inch Hisense and Toshiba TV produced there will then be available on Indonesian market.
It is notable that the factory was all built by Hisense technologies with the on-site instruction of Hisense engineers, representing a major breakthrough of the company in expanding its overseas presence.
In the first quarter of this year, TV sales of the Hisense International Indonesia company increased by 92 percent year on year. With the new production base in place, it is estimated that the sales volume will reach over 600,000 by 2024, according to the company.
(Edited by Li Shimeng with Xinhua Silk Road, lishimeng@xinhua.org)