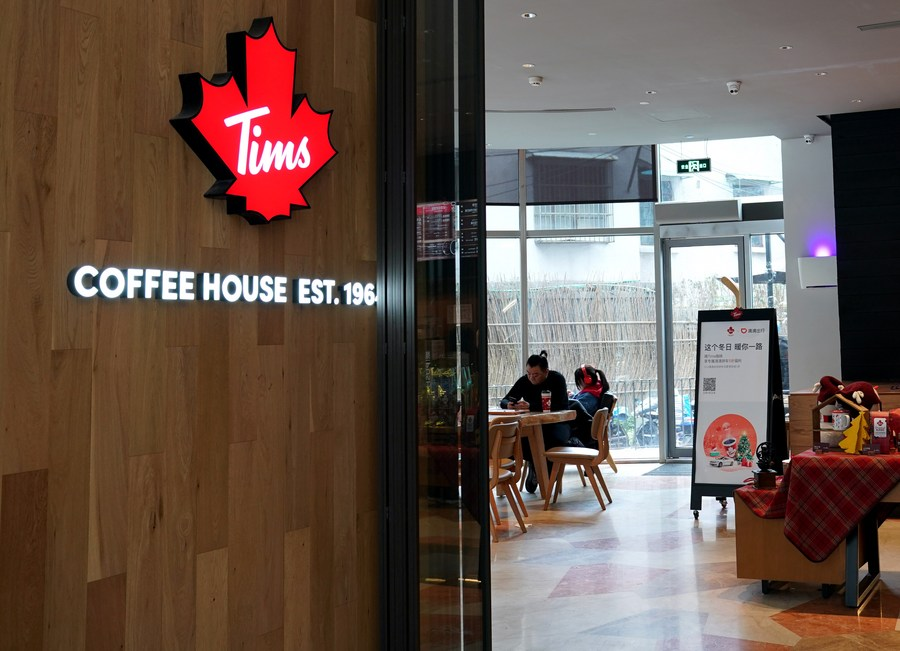 Photo taken on Dec. 25, 2019 shows the first store of the Canadian fast-food restaurant chain Tim Hortons opened in east China's Shanghai. (Xinhua/Liu Ying)
BEIJING, March 11 (Xinhua) -- Tim Hortons China, the Chinese venture of the Canadian fast-food restaurant chain Tim Hortons announced on Thursday that it has recently received 194.5 million U.S. dollars investment, reported China Securities Journal.
Investors include Cartesian Capital Group, Restaurant Brands International and Silver Crest Management LLC, who committed to invest a total of 94.5 million U.S. dollars as private investment in public equity (PIPE). Relevant PIPE commitment also involves complementary funds from Shaolin Capital Management LLC through an equity support agreement. In addition, a global financial service company signed with Tim Hortons China a letter of intent on share subscription of 100 million U.S. dollars.
The company is confident in achieving high-quality and profitable growth in China's rapidly growing coffee market through continuous innovation and operational optimization, said Lu Yongchen, CEO of Tim Hortons China.
Making its debut in China in February 2019, the chain has opened over 400 stores in China and is planning to bring the number to more than 2,000 by the year 2026.
(Edited by Yu Huichen with Xinhua Silk Road, yhc0267@163.com)