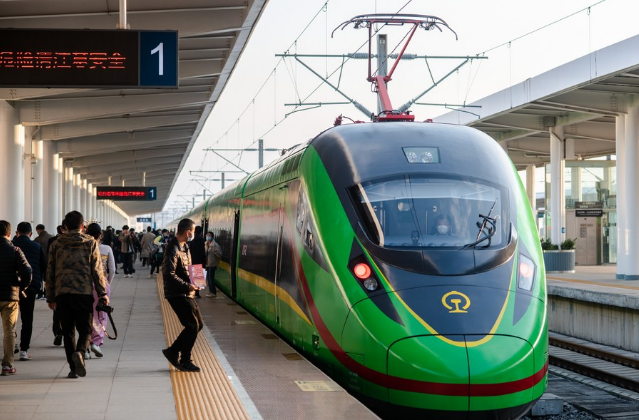 An electric multiple unit (EMU) train of the China-LaosRailway arrives at Yuxi Railway Station in Yuxi, southwest China's Yunnan Province, Dec. 3, 2021. (Xinhua/Hu Chao)
BEIJING, Feb. 22 (Xinhua) -- Transportation sector became one of the most popular industries for the Chinese companies to acquire and merge in 2021, according to a report released recently by consulting firm Ernst and Young (EY).
EY report shows that the country saw the newly-signed overseas engineering, procurement and construction (EPC) projects increase 1.2 percent year on year to about 258.5 billion U.S. dollars, of which most were in the transportation sector.
The new key projects in 2021 included the 5 billion-dollar Belgrade Metro project in Serbia and 3 billion-dollar Eastern railway rehabilitation project in Nigeria, according to the report.
EY also noted that numerous key transportation projects had witnessed major progresses in 2021, such as the opening of the China-Laos Railway, a milestone Belt and Road project, as well as the completion and commencement of the Russian Metro project that marked the first time Chinese enterprises participated in a metro construction project in Europe. (Contributed by Zhang Lei, edited by Hu Pingchao, hupingchao@xinhua.org)