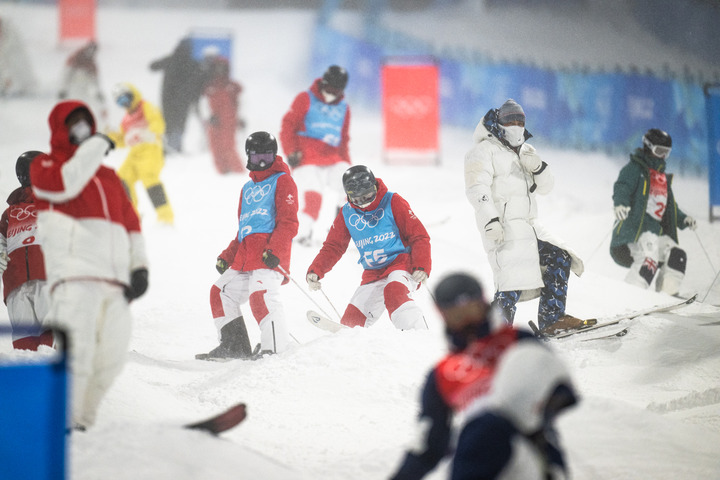 Freestyle skiing moguls athletes take part in a training session at Genting Snow Park in Chongli district of Zhangjiakou City in north China's Hebei Province, Jan. 30, 2022. (Xinhua/Xiao Yijiu)
BEIJING, Feb. 10 (Xinhua) -- In China, the Beijing 2022 Olympic and Paralympic Winter Games, or Beijing 2022, have comprehensively improved the development momentum of ice-snow industry and significantly brought up related sports, tourism, gears manufacturing, investment and financing.
Latest statistics with the General Administration of Sport of China showed that there have been 346 million people taking part in ice and snow sports and with improvement of related supporting infrastructures, ice and snow sports have no longer been a niche hobby but expanded to all ages and many regions in China.
As the "cold resources" boost a "hot" ice-snow economy, lots of listed companies have flocked into the ice and snow industry.
-- Consumption in ice & snow sports rising during Beijing 2022
Ignited by the Beijing 2022 Olympic and Paralympic Winter Games, people now spend much more in ice- and snow-related commodities and services.
According to a consumption report for the Spring Festival holiday released by JD.com, overall turnover of skiing products and ice-sports products increased respectively by 322 percent and 430 percent year on year by February 5.
Bing Dwen Dwen, the popular mascot of the Beijing 2022 Olympic Winter Games, is in hot demand now. By February 6, the Bing Dwen Dwen badges and Bing Dwen Dwen toys in the official Olympic flagship store on Tmall had been sold out.
In total, over 5,000 licensed products of 16 categories have been launched. During the games, the gross revenue of sales of these licensed products may exceed 2.5 billion yuan, predicted analysts with Shanxi Securities.
Industry experts held that the peripheral merchandizes for the games such as the Bing Dwen Dwen are broadly favored by people and licensed producers and retailers are expected to benefit from such popularity. Public data shows that there are 29 licensed producers and 58 licensed retailers for the games, including ANTA Sports Products Limited (02020.HK), Beijing Yuanlong Yato Culture Dissemination Co., Ltd. (002878.SZ), Cultural Investment Holdings Co., Ltd. (600715.SH), Wangfujing Group Co., Ltd. (600859.SH), China Sports Industry Group Co., Ltd. (600158.SH) and other listed companies.
Currently, people now show unprecedented enthusiasm for ice-snow tourism in China. Statistics released by Qunar.com on February 6 showed that the ski resort tickets sold on the website during the Spring Festival holiday doubled compared with the same period of last year, and the tickets sold for ski resorts in Beijing were more than twice as many as those during the Spring Festival holiday in 2019 before the pandemic.
Some natural ice rinks in Beijing, such as those in Shichahai and the Summer Palace, saw an influx of visitors. Popular destinations of ice-snow tourism are not only limited to northern part of China, namely to the north of the virtual line linking Qinling Mountains and Huaihe River. Among the top 10 ski resorts by year-on-year increases in ticket sales on Qunar.com during the Spring Festival holiday, five ones are located in southern part of China, including three in Zhejiang Province.
-- Huge business opportunities hidden in ice-snow industry
The ice-snow industry abounds with huge business opportunities and brings the surge in the sales of ice-snow sports products and the bookings for ice-snow trips.
According to the China Tourism Academy (CTA), China's ice and snow tourism revenue is forecasted to reach 323.3 billion yuan during 2021 and 2022.
Data from Qunar.com shows that in Harbin, Baishan, Altay and other places in northern part of China, hotel rooms booked for the Spring Festival holiday were over twice those of the same period last year.
In terms of per customer transaction, Yulong Snow Mountain ski resort in Lijiang of Yunnan Province, Changbaishan international ski resort in Jilin Province, and Songhua Lake ski resort in Jilin Province are the most lucrative. According to Qunar.com, most tourists chose to stay for over two nights and spent over 2,000 yuan per person.
In Beijing, people have showed passionate interest in ice and snow sports. When visiting the natural ice rinks such as those in the Summer Palace, Yuyuantan Park and Bayi Lake during the Spring Festival holiday, it is found that several areas for ice-snow sports activities are opened to public in Bayi Lake mainly for fitness and entertainment, among which, ice slide and ice skating are the most popular.
Teenagers are more and more interested in ice and snow sports. A Beijing resident who lives near Yuyuantan Park said that his son had learned ice hockey for five years. Ice hockey is helpful for building up masculinity and teamwork.
According to the 2020 China ski industry white book, the number of skiers who experienced this activity only once dropped significantly, while that of ski enthusiasts and that of skiing visits per capita increased remarkably. The average costs for skiing were 600-800 yuan each time, covering the fees for transportation, ticket, lunch, rented ski gears and an instructor.
CTA estimates that by 2025, the ice-snow tourism will become a major driver of China's winter tourism and ice-snow economy. Over 500 million people are expected to be engaged in it and its total income is likely to surpass 1.1 trillion yuan. (Edited by Duan Jing with Xinhua Silk Road, duanjing@xinhua.org)