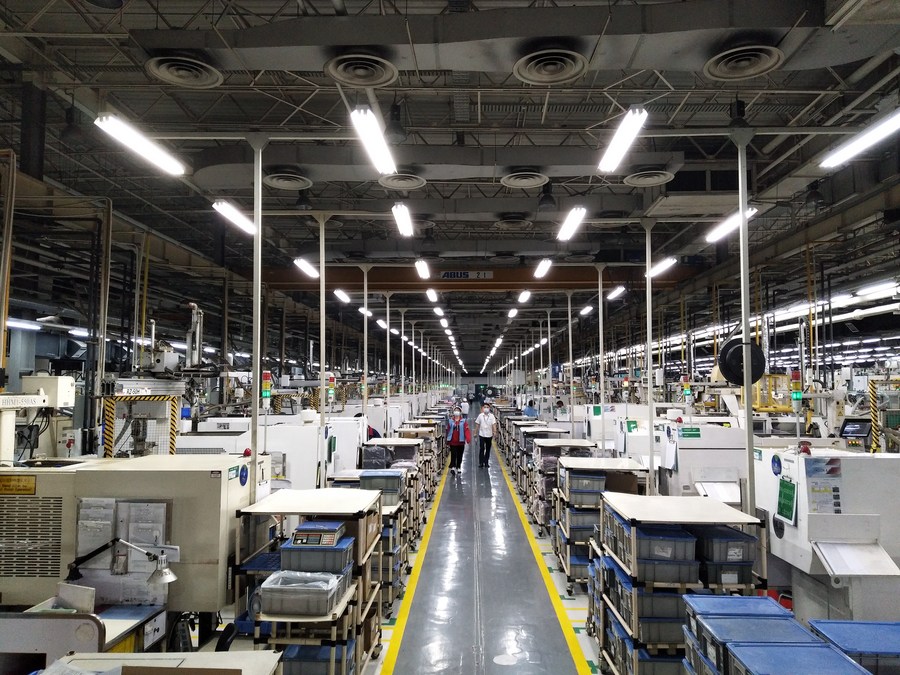 Employees work at an electronics components enterprise in Shatian Town of Dongguan, south China's Guangdong Province, Feb. 2, 2021. (Xinhua)
BEIJING, Jan. 28 (Xinhua) -- Merck, a Germany-based multinational company operating across healthcare, life science and performance materials, has eyed the great potential in the Chinese market.
The company has invested more than 1 billion yuan in the Chinese market over the past decade, with the money mainly flowing into liquid crystal and other display materials and technological fields.
It has been proved that continuous localization in the Chinese market would brought generous returns, said Allan Gabor, president and managing director of electronic technology business of Merck China.
Today, about half of Merck's display materials sales worldwide come from the Chinese market, and in 2021, China became the company's largest single sales market and largest performance growth contributor worldwide in electronic technology, according to him.
By increasing the investment, Merck is confident that China will be a market of efficient and resilient growth and a source of innovation for the company in the future, he added.
Currently, the electronic technology business sector of Merck operates three high-tech manufacturing plants in the Chinese mainland, distributing respectively in Jinqiao Town of Shanghai, Shanghai Waigaoqiao Free Trade Zone and Suzhou city in east China's Jiangsu Province.
The three plants are used to produce display and semiconductor materials, as well as transport and storage equipment for electronic specialty gases and high purity chemicals.
In addition, Merck has also set up three electronic materials laboratories in China, respectively focusing on the research and development and application of liquid crystal, photoresist and OLED (organic light emitting diode) materials.
On January 26, the company announced that it would add at least 1 billion yuan (about 130 million euros) of investment in China by 2025, mainly in electronic technology business with chip manufacturing as the focus. With the money, it will establish and expand a series of localized production, research and development and supply chain facilities for electronic materials in Shanghai and the Yangtze River Delta region.
The company is now building an electronic technology center in Shanghai, which will be mainly used for analysis, testing and sampling of various semiconductors and display materials, and is expected to be completed and put into use in the summer of 2022.
Once the center is completed, Merck would be capable of providing more rapid and comprehensive technical services and more customized material solutions for China's local semiconductor enterprises and display panel manufacturers.
At present, Merck provides over 150 kinds of high-purity chemicals, electronic specialty gases and specialty materials for over 100 chip manufacturers across the Chinese mainland.
(Edited by Tong Ting, Gu Shanshan with Xinhua Silk Road, gushanshan.1987@163.com)