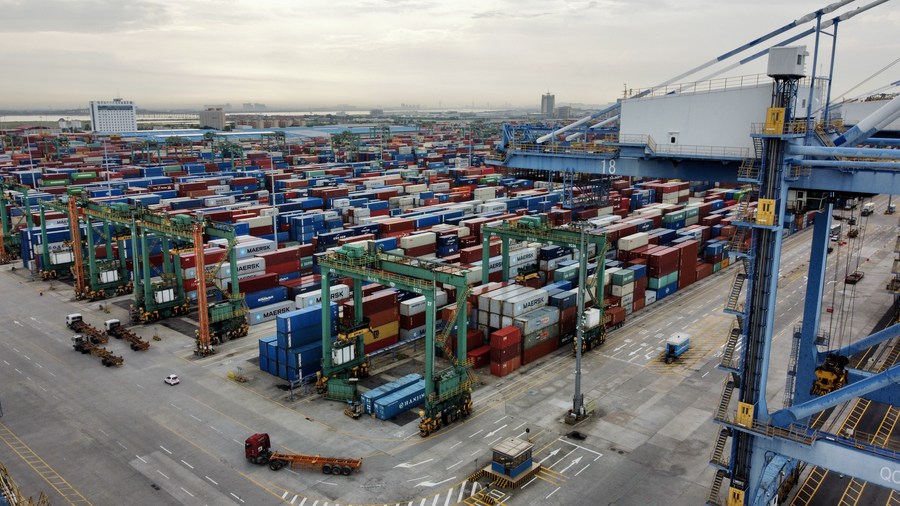 Aerial photo taken on July 17, 2021 shows the view of Guangzhou Port, in south China's Guangdong Province. (Xinhua/Geng Xinning)
BEIJING, Jan. 26 (Xinhua) -- The Guangzhou Port Group on Tuesday signed a strategical memorandum of cooperation with Midea International Logistics and China United Lines (CULines), reported Shanghai Securities News on the same day.
The three parties are expected to take advantage of each others' advantageous resources to carry out full-chain in-depth cooperation among port, logistics and manufacturing firms, in a bid to jointly forge an efficient, convenient and affordable global supply chain channel.
According to the agreement signed, cooperation among the three parties will be supported by Guangzhou Port's integrated logistics service, Midea's import and export supply of goods, and CULine's shipping capability.
By promoting unimpeded export services for foreign trade enterprises in the Pearl River Delta region and the stable operation of global industrial chains, the companies strive to contribute more to China's foreign trade development and strengthen nation's independent control of supply chains.
The Guangzhou Port is currently accelerating its effort in transferring into a nation-level comprehensive logistics hub through improving its port service functions and expanding multimodal transport network. Striving to effectively integrating the domestic and foreign markets and the resources via port logistics, the Guangzhou Port applies itself to constructing modern integrated transportation system, in a bid to promote regional economic and industrial development, as well as global trade recovery.
(Edited by Yu Huichen with Xinhua Silk Road, yhc0267@163.com)