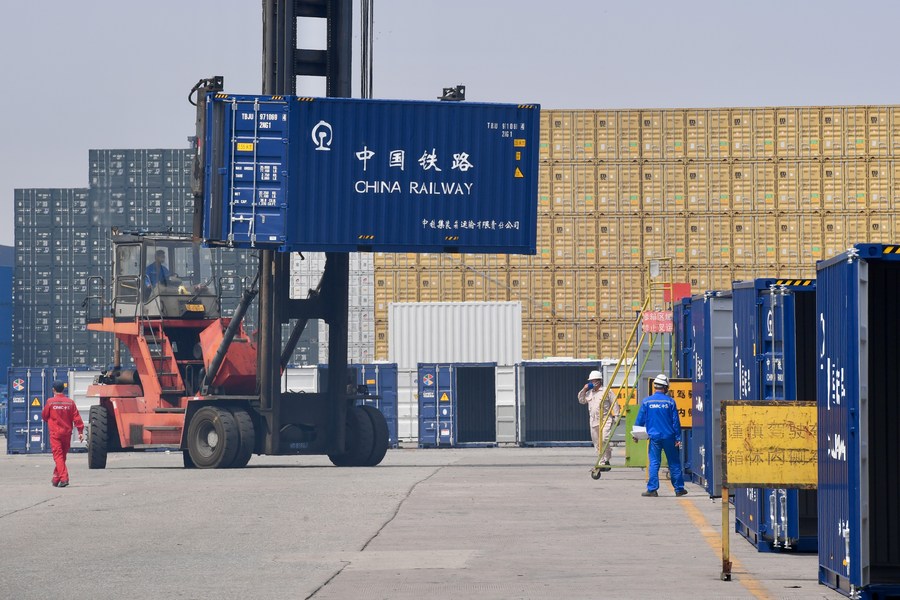 A container is lifted at Zhangzhou China International Marine Containers (Group) Ltd. (CIMC) in Zhangzhou, east China's Fujian Province, March 28, 2020. (Xinhua/Jiang Kehong)
BEIJING, Jan. 19 (Xinhua) -- CIMC Logistics, a subsidiary of China International Marine Containers (Group) Ltd. (CIMC) on Monday signed a strategic investment agreement with Delfin Group in Shenzhen, south China's Guangdong Province.
The two sides are expected to achieve an annual business volume of nearly 200,000 twenty-foot equivalent units (TEUs) on the Latin American routes, providing whole-process logistics solution. Through improving its service capability on the Latin American routes, CIMC Logistics will further optimize its global strategic layout.
Headquartered in east China's Shanghai, Delfin Group was originally established in Chile in 1999. Focusing on maritime shipping business from the Far East to Latin America, the company is one of the leading international logistics service providers of the Latin America routes with annual cargo volume reaching nearly 100,000 TEUs.
CIMC Logistics pays significant attention to the Latin American market, with current annual cargo volume in the region exceeding 50,000 TEUs, said Hu Pengfei, managing director of the company. Through cooperating with Delfin Group, CIMC Logistics will expand its business scope and service type in the Latin America, by integrating resources of both sides and increasing local service investment in the area.
(Edited by Yu Huichen with Xinhua Silk Road, yhc0267@163.com)