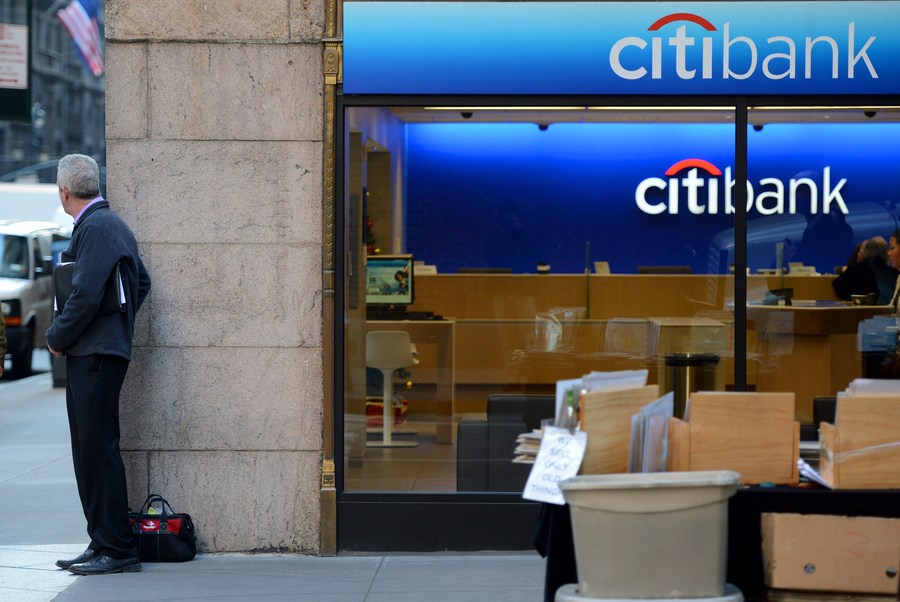 File photo taken on Dec. 5, 2012 shows a man standing outside a Citibank branch in New York, the United States. (Xinhua/Wang Lei)
BEIJING, Jan. 17 (Xinhua) -- Citibank (China) Co., Ltd., or Citi China, announced on Friday that the company has completed system docking with the Beijing branch of China Securities Depository and Clearing Co., Ltd., allowing the bank to support liquidation and settlement services of the Beijing Stock Exchange (BSE) and the National Equities Exchange and Quotations.
As one of the first foreign banks to provide liquidation and settlement services to BSE, Citi China will also provide all-round support for qualified foreign institutional investors (QFII) exchanges.
Citibank has long been actively responding to the development of the Chinese capital market, said Aashish Mishra, Asia Pacific head for direct custody and clearing business at Citi, noting that the bank will continue to utilize its strength and experience to support QFII exchanges at the Beijing bourse.
Christine Lam, president and CEO of Citibank China said that the bank has also seen innovation and reform in itself since it first came to China in 1902, adding that it is a good example in July 2021 when Citibank obtained the license to provide securities investment fund custody services for publicly-offered funds and private equity funds in China.
"This shows how Citi bulls the Chinese market and is willing to support its growth with practical efforts on a long-term basis," said Lam.
Managing assets of around 30 trillion U.S. dollars in over 60 markets across the globe, Citi's custody service provides clients with not only localized market knowledge, advanced technology support and customized data solutions, but a series of comprehensive custody and fund services that are tailored to their needs.
(Edited by Yu Huichen with Xinhua Silk Road, yhc0267@163.com)