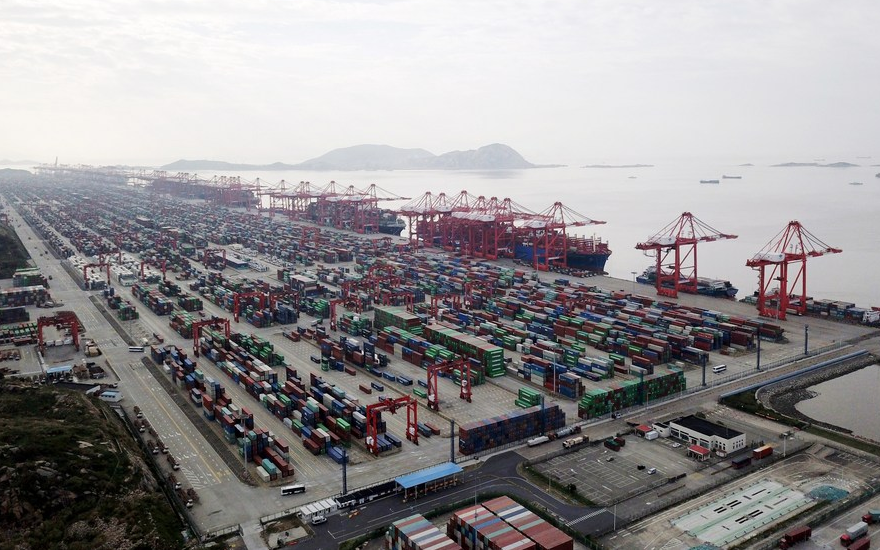 Aerial photo taken on Nov. 3, 2021 shows a container dock of Yangshan Port in east China's Shanghai. (Xinhua/Ding Ting)
BEIJING, Jan. 17 (Xinhua) -- Shanghai International Port (Group) Co., Ltd. (SIPG, 600018.SH), the operator of public terminals in the Port of Shanghai, has recently signed a framework agreement on liquefied natural gas (LNG) filling services with French shipping group CMA CGM, reported Shanghai Securities News.
Under the partnership, SIPG will use the newly-built LNG refueling vessel of 20,000 cubic meters to replenish LNG for CMA CGM's 15,000-TEU dual-fuel vessels at the Shanghai Yangshan Port. All the 15,000-TEU dual-fuel vessels deployed by CMA CGM on the Pearl River Express (PRX) shuttling from China to Los Angeles will be put into operation by the end of 2022.
According to the agreement, SIPG will provide ship-to-ship LNG synchronous refueling services for all vessels of CMA CGM on PRX in the Shanghai Yangshan Port for ten years starting from the first quarter of 2022. This will be the first synchronous LNG refueling service at the port of Shanghai and the first simultaneous LNG refueling operation at a Chinese port.
As a leading terminal operator in the world, SIPG upholds and conducts the concept of green and sustainable development in every aspect of port development, committed to becoming a leader in promoting green and ecological construction and development of ports.
For a long time, SIPG has been building an environmentally-friendly port by developing shore power and converting oil to electricity with technical support, achieving reduction of carbon emission intensity year by year. Providing LNG refueling services for CMA CGM will be one of the contributions made by SIPG in reducing the carbon footprint of the shipping and logistics supply chains.
"This agreement marks a milestone in the energy transition of CMA CGM as CMA CGM will be the first liner company to fill LNG fuel in China," said Rodolphe Saade, chairman and CEO of CMA CGM.
(Edited by Tong Ting, Gu Shanshan with Xinhua Silk Road, gushanshan.1987@163.com)