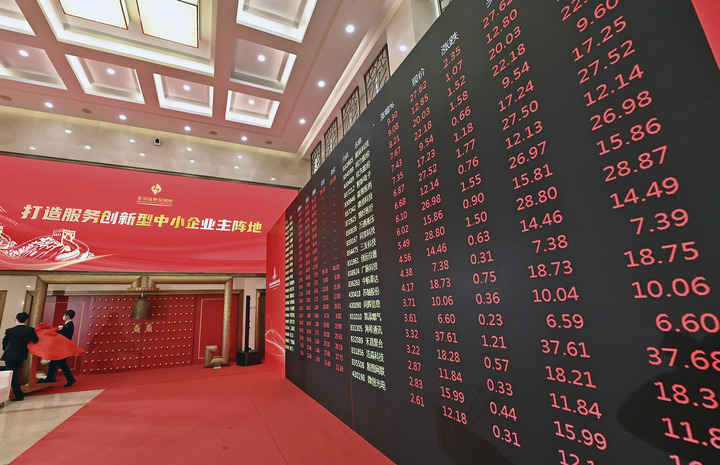 Photo taken on Nov. 15, 2021 shows a scene at the opening ceremony of the Beijing Stock Exchange, in Beijing, capital of China.
BEIJING, Jan. 12 (Xinhua) -- China Securities Regulatory Commission (CSRC), the country's securities regulator, released rules to guide Beijing Stock Exchange (BSE) listed firms' board shift to Shanghai and Shenzhen bourses, effective from January 7, 2022, reported Xinhua-run Xinhua Finance.
CSRC required in the guiding rules Shanghai Stock Exchange (SSE) and Shenzhen Stock Exchange (SZSE) to strictly implement board shift reviews and strengthen daily supervision and thorough responsibility fulfillment by securities intermediaries.
Based on revising the past board shift rules for firms listed on National Equities Exchange and Quotations (NEEQ), the rules contain amendments on five aspects such as defining the calculation method of corporate listing period and lock-up period of stocks of BSE-listed firms.
When applying for board shift, the BSE-listed companies shall have listed on the exchange for no less than a year and their listing periods on the previous NEEQ select tier and BSE can be combined for calculating.
In principle, the lock-up periods of shares of BSE firms after their shift to SSE and SZSE are allowed to deduct their lock-up periods already passed when listing on NEEQ select tier and BSE.
Apart from these, the past board shift rules for NEEQ-listed firms are applicable to firms which applied for listing shift to SSE and SZSE before opening of BSE on November 15, 2021. After opening of BSE and before the guiding rules taking effect, SSE and SZSE are required to deal with and review board shift applications of BSE-listed firms pursuant to their existing rules, according to CSRC.
On BSE, its first batch of listed companies partially came from firms originally listed on the select tier of NEEQ, better known as the "new third board" in China. (Edited by Duan Jing with Xinhua Silk Road, duanjing@xinhua.org)