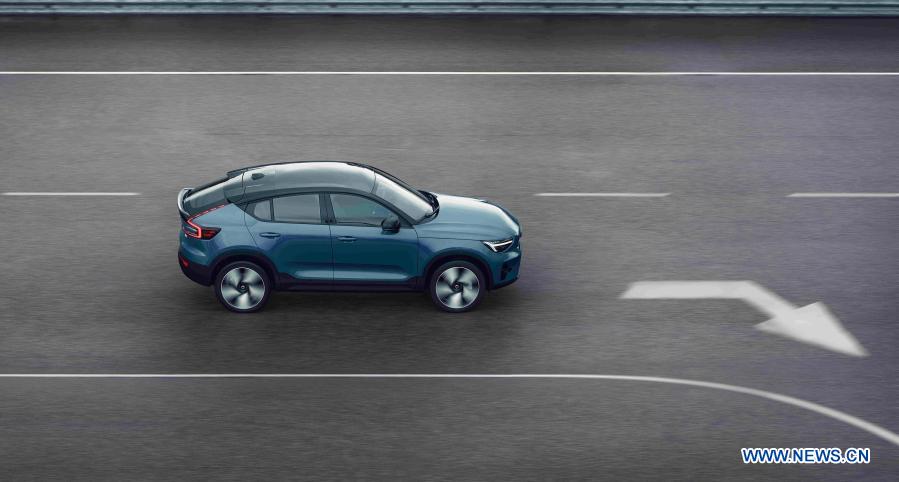 This undated photo provided by Volvo Cars on March 2, 2021 shows the C40 Recharge, their second purely-electric model, in Gothenburg, Sweden. (Volvo Cars/Handout via Xinhua)
BEIJING, Jan. 11 (Xinhua)-- Beijing Changjiu Logistics Corporation (Changjiu Logistics, 603569. SH), a company focusing on auto logistics, has recently launched a new cooperative project with Volvo Cars under which it will provide Volvo Cars with all-round logistics services including road, maritime, warehousing and distribution transportation in the next four years, covering three regions of northeast, north and south China, reported Securities Daily Monday.
The launching ceremony of the Changjiu Logistics-Volvo project, one of the key projects of Changjiu Logistics in 2022, were held simultaneously in Guangzhou, Tianjin and Daqing. The project has brought the partnership between the two companies to a new level.
Volvo Cars recently announced that although affected by the supply shortage of automotive components, its global sales volume in 2021 was still close to 699,000, an increase of 5.6 percent over 2020. Data showed that in 2021, Volvo Cars sold about 172,000 vehicles in China, an increase of 3 percent over 2020.
Changjiu Logistics and Volvo Cars have established cooperative relations for many years, and the two sides have carried out in-depth cooperation in domestic and international logistics business.
From 2017 to 2018, with rich experience in operating Harbin-Europe freight trains, Changjiu Logistics had won the bids for two Volvo cars export projects respectively targeting Ghent of Belgium and Russia.
The successful launch of the Changjiu Logistics-Volvo project owns to Changjiu Logistics' continuously improved logistics network layout and multimodal transport capacity, and it will help Volvo Cars create a comprehensive transport system covering three regions of northeast, north and south China both by land and by water, deepening the cooperative relationship between the two sides, an executive with Changjiu Logistics said.
"As a leading enterprise in the subdivision of domestic automobile logistics, Changjiu Logistics is committed to providing high-quality warehousing, logistics and supporting services for automobile brands home and abroad. The launch of the Changjiu Logistic-Volvo project shows Volvo Cars' full recognition of our business capabilities and a vision of long-term cooperation in the future," added the executive.
(Edited by Tong Ting, Gu Shanshan with Xinhua Silk Road, gushanshan.1987@163.com)