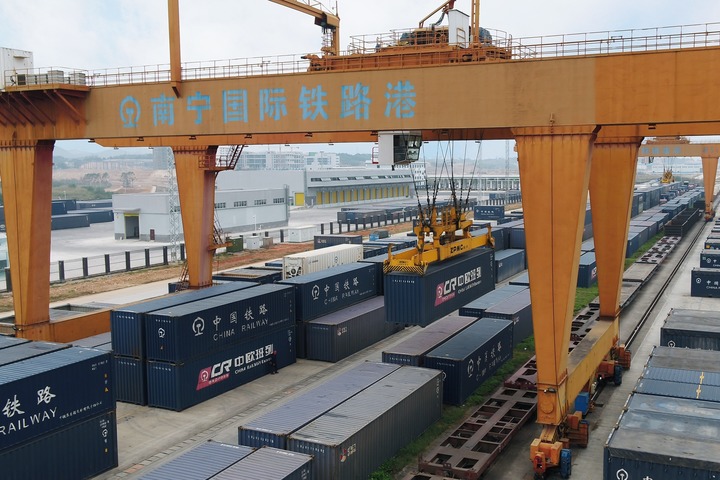 A gantry crane loads containers onto a freight train in Nanning international railway port in south China's Guangxi Zhuang Autonomous Region, Dec. 31, 2021. (Xinhua)
BEIJING, Jan. 6 (Xinhua) -- As the Regional Comprehensive Economic Partnership (RCEP) agreement took effect on Jan. 1, Chinese cities make all efforts to facilitate trade cooperation with RCEP members to embrace business and development opportunities brought by the deal.
-- RCEP dividends inject vitality into regional cooperation
Covering about one third of the world's population, as well as its gross domestic product and trade volume, the RCEP forms the world's largest free trade area. With optimized trade rules among signatories, wider opening-up in the sectors of services-trade and investment and advanced intellectual protection, the RECP will bring direct "dividend", such as zero-tariff, step by step to over 90 percent of goods in the region.
In recent years, southwest China's Chongqing has seen growing trade volume with RCEP member countries, which reach 204.3 billion yuan (about 32.08 billion U.S. dollars) in 2020 from 127 billion yuan in 2016, with an average annual growth rate of 12.6 percent. The total imports and exports between Chongqing and RCEP members stood at 190.72 billion yuan from January to October of 2021.
RCEP member countries invest and set up more than 50 enterprises in Chongqing each year, with the annual actual foreign
investment
exceeding 900 million U.S. dollars.
Meanwhile, Chongqing's investment into RCEP member countries has taken larger share during past years, rising from 3 percent in 2016 to 5.8 percent in 2020.
"Enterprises could enjoy new benefits such as tax cut in foreign trade thanks to the pact," said Xiao Hong, who is in charge of foreign trade of a mechanical equipment manufacturer based in Chongqing. According to Xiao, the firm's products have been sold to 12 countries in the RCEP bloc.
The entry into force of the RCEP also made a difference in costal city of Qingdao in east China's Shandong Province. The city's tax authority has started to deal with the first case of tax refund filed by Qingdao Associated Textiles Group Import & Export Co.,Ltd., worth 2.06 million yuan.
By now, foreign-invested enterprises from RCEP members in Qingdao have reached to 17,000 ones. The total imports and exports between the city and RCEP members stood at 291.98 billion yuan in the first 11 months of 2021.
South China's Guangxi Zhuang Autonomous Region is also a beneficiary of the agreement. The region has been thrust into the frontier of the country's opening-up to ASEAN, and thus expecting more opportunities and benefits from deeper cooperation with RCEP members including ASEAN countries.
"RCEP will significantly reduce operational costs of enterprises, spur reconstruction of supply chain and value chain and optimize the products and technology flows in the region, ushering in a new era of economic integration among China and ASEAN countries," said Yang Chunting, director of the regional department of commerce.
-- High-quality opening-up and cooperation await amid new opportunities
Ren Hongbin, vice minister of commerce, said at a press conference that RCEP represents a "new milestone" for China's opening-up as the pact will connect domestic and overseas markets and resources.
As a key juncture linking the members of the Belt and Road Initiative (BRI) and the Yangtze River Economic Belt, Chongqing boasts particular geographical strengths in deepening cooperation with RCEP members.
According to an official with the local commerce bureau, the city will beef up building of logistics hub, pace up infrastructure construction in flight and railway and unleash the potential of various projects.
In Guangxi, a new service center for RCEP enterprises was established on Dec. 30, 2021. According to Yang Chunting, taking full advantage of the preferential tariffs rules and RCEP certificates of origin, the autonomous region will strengthen cooperation with RCEP members in building supply chains and value chains in fields including electronic information, chemical new materials, herb processing, automobile and ASEAN special products.
As early as Dec. 1, 2020, Qingdao had put forward a plan to build a RCEP trade cooperation pilot with the international cruise port at its core. After the pact came into effect, the coastal city will continue to deepen cooperation with RCEP members in terms of international trade, shipping and logistics, finance, technological innovation, amplifying the effects of its demonstration trade zone of Shanghai Cooperation Organization (SCO) and free trade pilots and building itself into a model city of RCEP trade cooperation.
(Edited by Li Shimeng with Xinhua Silk Road, lishimeng@xinhua.org)