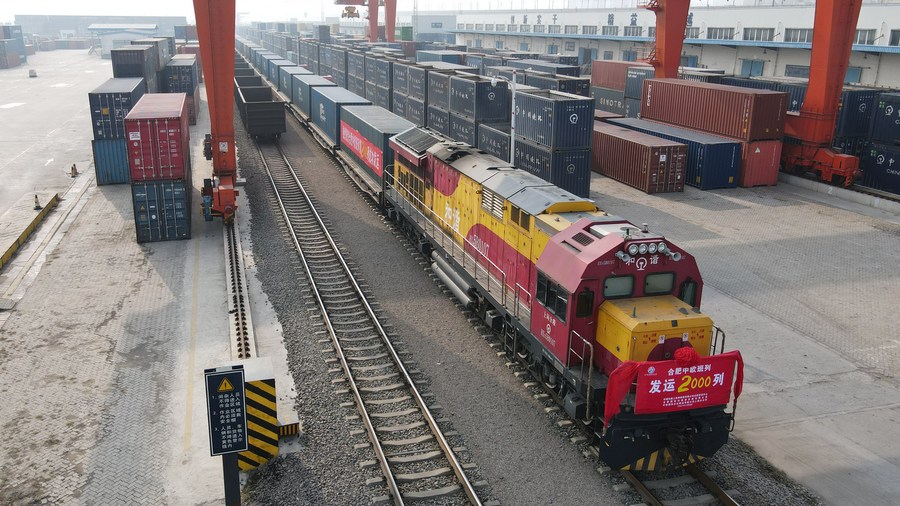 Aerial photo taken on Dec. 8, 2021, shows the 2,000th trip of China-Europe freight train departing from Hefei, capital of east China's Anhui Province.(Xinhua/Zhang Rui)
BEIJING, Dec. 29 (Xinhua) -- China has played a crucial role in securing the stability of global industrial and supply chains in 2021 by constructing channels for the circulation of goods, capital and other factors amid the resurgence of the COVID-19 pandemic time and again.
On December 2, a freighter carrying nearly 400,000 tonnes (metric tons) of iron ore from Brazil berthed at the Luoyu operating area of Meizhou Bay Port in Southeast China's Fujian province. It is the largest ship berthed ever at the port since its opening, and also refreshes the deadweight tonnage record of large bulk carrier berthed at ports of Fujian.
On December 20, a China-Europe freight train loaded with auto parts left Changsha, capital of Central China's Hunan Province. This is the 1,000th China-Europe freight train service opened in Changsha this year, which is a record high.
On December 16, the government of the Putuo District of Shanghai Municipality officially signed a strategic cooperation framework agreement with Surbana Jurong Capital, the investment arm of Surbana Jurong Private Limited, an urban development and infrastructure consulting firmin Singapore. This is the first park cooperative investment project of Surbana Jurong Capital in China.
-- Economic barometers
As an important part of the integrated transport system, shipping is an important bridge connecting China with the world, undertaking more than 95 percent of China's international trade transportation.
China's shipping industry has played an important role in the global shipping market which is troubled by the COVID-19 pandemic. So far, the Silk Road Maritime Alliance, the first international integrated logistics service brandin China themed on shipping under the Belt and Road Initiative (BRI), has had more than 200 members, with 86 shipping routes connecting 102 ports in 29 countries around the world. By October, Fujian's coastal ports has opened nearly 300 container routes connecting over 50 countries and regions. The number of global sister ports of ports in east China's Shandong Province has expanded to 38 ...
From January to October this year, China's ports handled 12.87 billion tonnes of cargo, registering a year-on-year growth of 7.8 percentand a two-year average growth of 5.7 percent, with domestic and foreign trade throughput increasing by 9.3 percent and 4.7 percent year on year, respectively. The container throughput was 240 million twenty-foot equivalent units (TEUs), recording a year-on-year growth of 8.4 percent and a two-year average growth of 4.1 percent.
Insiders point out that the port container is like a barometer, showing the resilience and potential of the Chinese economy, and letting the world see the courage and wisdom of China in meeting difficulties and witness the confidence and actions of China in upholding openness, inclusiveness and win-win cooperation.
-- "Steel camel fleets"
Since the beginning of this year, the China-Europe freight train service, which combines the advantages of large volume, fast speed, high safety and environmental friendliness, has been developing rapidly.
As of November, the monthly trips made by the China-Europe freight trains have exceeded 1,000 for 19 consecutive months. In the first 11 months of this year, the trips made by the trains hit 13,817, with 1.332 million TEUs of cargo delivered, up 23 percent and 30 percent year on year, respectively. By the end of November, a total of 47,414 trips were made by such trains since the opening of the service, with 4.297 million TEUs of goods delivered, including 103,000 tonnes of epidemic prevention supplies.
Reputed as the "steel camel fleets" on the new Silk Road, the China-Europe freight trains have opened up a major logistics channel between China and Eurasian countries, promoted the economic and trade exchanges between each other, and also brought business opportunities to tens of thousands of enterprises. The roaring trains send "made in China" products to different countries and bring back materials needed at home.
Experts say that as an important logistics carrier for China's foreign trade development, the China-Europe Freight train service has effectively guaranteed the smooth operation of passages for goods trade, and boosted common economic development of countries along the routes, playing an important role in stabilizing the international supply and industrial chains.
-- Stage for foreign investment
Since the beginning of this year, foreign investors have made frequent moves in China, a hot land for investment. Some are optimistic about China's huge consumer market, or take China as the core of the global supply chain to make global layouts.
According to a survey conducted by the Ministry of Commerce (MOC), 93.3 percent of the 3,000-odd key foreign-funded enterprises in China are optimistic about their future development prospects. Besides, reports released by the American, European and Japanese chambers of commerce show that nearly two-thirds of U.S.-funded companies, 59 percent of Europe-funded companies and 36.6 percent of Japan-funded companies plan to increase investment in China.
Over the past 20 years since China's accession to the WTO, the amount of foreign investment used in China has grown steadily, from 388 billion yuan in 2001 to 999.98 billion yuan in 2020, an increase of 157.7 percent.
In the first 11 months of this year, China actually utilized 1042.2 billion yuan of foreign investment, up 15.9 percent year on year. The actual investment from the Belt and Road countries and the Association of Southeast Asian Nations (ASEAN) increased by 24.7 percent and 23.7 percentyear on year, respectively.
The open platforms in China has become more diversified, providing a broad stage for foreign investment.
Data show that in the first 10 months of this year, the actual use of foreign capital by the 21 pilot free trade zones in China accounted for 18.6 percent of the national total. The imports and exports and absorption of foreign capital in the 230 state-level economic development zones both account for about one fifth of the national total. Comprehensive trials and demonstrations for further opening up of the service sector were carried out in Beijing plus Tianjin, Shanghai, Hainan, and Chongqing.
According to experts, China's continued attraction to foreign investment is attributed to its long-term sound economic fundamentals and improved business environment.
An official from the MOC said that during the 14th Five-Year Plan period, China will remain a hot destination for foreign investment with wider opening-up, continuously-optimized business environment, complete industrial system and infrastructure, as well as prominent market advantages.
(Edited by Gu Shanshan with Xinhua Silk Road, gushanshan.1987@163.com)